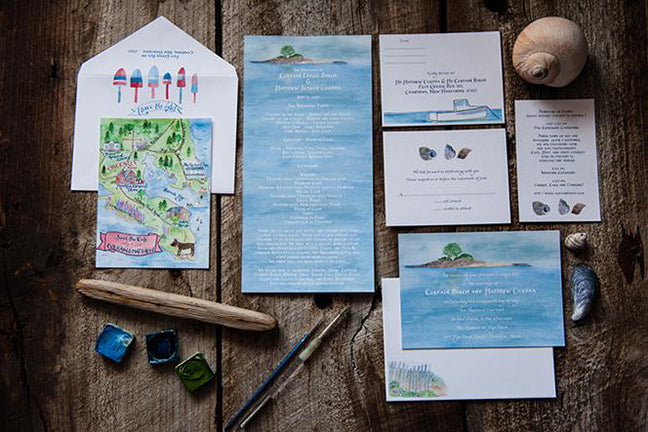 It's that time of year!  Did you just get engaged?  Or maybe you have been engaged for awhile but are just now starting to think about some of your wedding details!  Here is where we come in!  Last year we started working with some of our 2019 couples on their Save the Dates and proposals for most of those couples.  But don't worry...you're not too late. We are happy to still be booking weddings for this year.  It's a perfect time to reach out about wedding invitations.
Over the past few years, we have become super busy with the wedding aspect of our business.  Because of this, there are a few items that we used to offer to the general public....but now we only offer to our wedding invitation clients. The reason for this change in policy was simple.  Your wedding is a special day, and we want to help you make your guest experience as unique and personal as possible.  We want to be able to spend more time with our invitation clients special extras....vs. offering it to everyone.  
As a starting point, all of our designs are created in our Greenland, New Hampshire studio. They are not available anywhere else.  And all of our fonts that we use are our very own.  Each font is created by me and is only available at El's Cards. We add at least one new font every year so the choices keep growing!
To touch on a few of these exclusive invitation services...these are a few of our most popular!
-Custom Maps-We love maps here at El's Cards.  My first map was the one I created for our wedding...and I must admit that they have improved since then! :)  That map was very simple and got the job done.  Our maps now are much more detailed than the early maps I created.  A custom map is a beautiful additional detail to your own wedding suite.  People will often put a Schedule of Events on the back of the map so your guests have a good overview of the weekend.
Photo credit: Brea McDonald
Depending upon budget, you may want to customize one of our existing maps with your own wedding locations and events.  We have done this for many of our clients too. Adapting one of our existing maps is a great choice for an envelope liner.
-Custom Postage-Your own special stamp is another fun detail offered exclusively to our invitation clients.  This is a great place to add a favorite pet, or flowers that are indigenous to the wedding locale...boats, greenery....so many ideas for this piece! PLEASE NOTE: As of June 9th, 2020, we are sad to announce that custom postage is no longer available.  The postal system has discontinued this service.  So sorry to report this!
-Hand Calligraphy on Guest Envelopes-For many years in business, we were able to take on calligraphy jobs for clients who purchased their invitations elsewhere.  Now we only offer this very special service to our wedding invitation clients. We have so many clients who love this exceptional detail as part of the wedding suite. It's the first thing your guests will see.  Hand calligraphy on the envelope truly feels like a gift in the mail.  And pairing that with the envelope detail (most of our suites have artwork on the envelope), is a lovely match.
Photo credit  Melissa Mullen
-Digital Calligraphy on Guest Envelopes-We just added this item to our menu in 2018, and it is already a popular choice.  Each of our digital calligraphy fonts are exclusively our own, so when I set this up for you to see in your set of proofs, we select a font that is used in your wedding invitation suite.  
If we are doing both Save the Date and Invitation together, you may opt for digital addressing on the Save the Date, and hand calligraphy on the invitation. 
-Invitation Assembly Service-Many of our clients think this one is a MUST! Bob assembles your invitations in a timely manner to get out the door on your mail date.  Don't get me wrong...the idea of having the bridesmaids over to stuff envelopes as a party sounds fun...but we assure you that this definitely simplifies the process!  This service accompanies your choice of either hand or digital calligraphy on the guest envelopes.
-Custom Design or Custom Elements- I love creating your own custom design...putting paintbrush to paper and designing something that is just for you.  Whether it is a painting of the property where the wedding will be held, wedding flowers, landscape scene, your own configuration of shells, or whatever you select...it will be totally your own.  You may select one of our existing suites, but wish to have me paint the family pet to put on the custom stamp.  We can do that!
This unique possibility is something that can be sometimes included if we are doing only "day of" paper goods too. For example, we had a client last year who wanted to use the greenery suite but add their beagle to the mix!  
Your wedding invitation will really set the tone for your wedding day!  We have so many lovely design choices to suit all personalities and types of wedding.  Adding some of our exclusive extras is a great way to really make an impact on your guests, no matter which design you select!  We hope to work with you by creating some beautiful and unique wedding artwork.  Please do reach out when you are ready!
Thank you Melissa Mullen for the cover photo