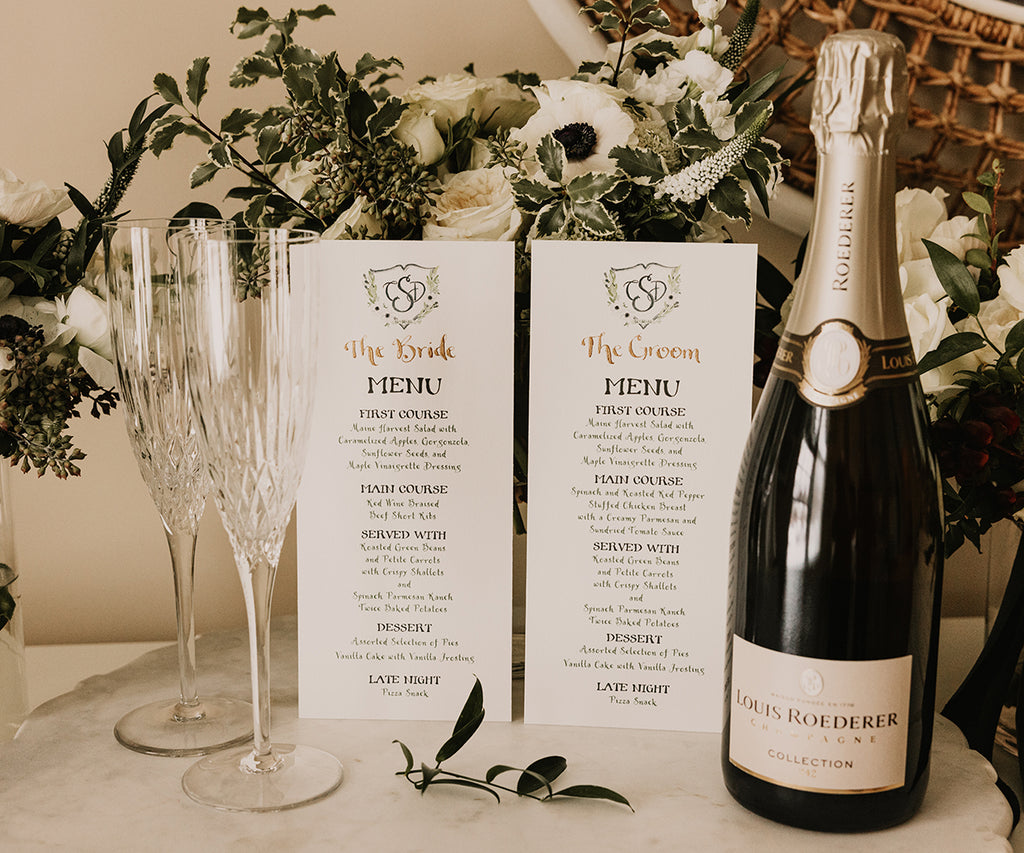 A menu card at each plate is one of the special details of your celebration that people will really enjoy. Even if you have one menu posted in the middle of the table, it is a beautiful and thoughtful addition to the table. After all, (for us anyway), good food is so enjoyable - and we always love to know what is on the menu!
General pricing is as follows:
5"x7" or 4" x 10" flat card ranges from $2.55 - $8.00 each, depending on quantity ordered

D

esign fee will apply

A

ll menus are printed on high quality, heavy card stock (110#/300gm)

Guest name individually hand lettered at the top of the menu is a wonderful and personal touch! This is a great alternative to place cards at each seat.  
($1.50 additional per menu with hand calligraphy or digital calligraphy-first name only--yes--same price for either one!)
We are also now offering large (16" x 20") framed menus.  These can be placed near a buffet table during the reception, or the bar during cocktail hour.  It's a beautiful way to incorporate your wedding invitation artwork into the reception.
Contact El to get started on your very own menus. We would love to work with you on this customized item! Take a look at table signs and place cards for some design ideas too.
Thank you for the beautiful photos: Geneve Hoffman, Justina Bilodeau, Melissa Mullen, Brea McDonald, Meredith Perdue, Snap Weddings, Courtney Elizabeth Media, Erin McGinn,  Rachel Buckley, Nadra Photography, Bravo Photography,  Emily Delamater, J&J Photography,  Karen Sigler, and Kivalo Photography!