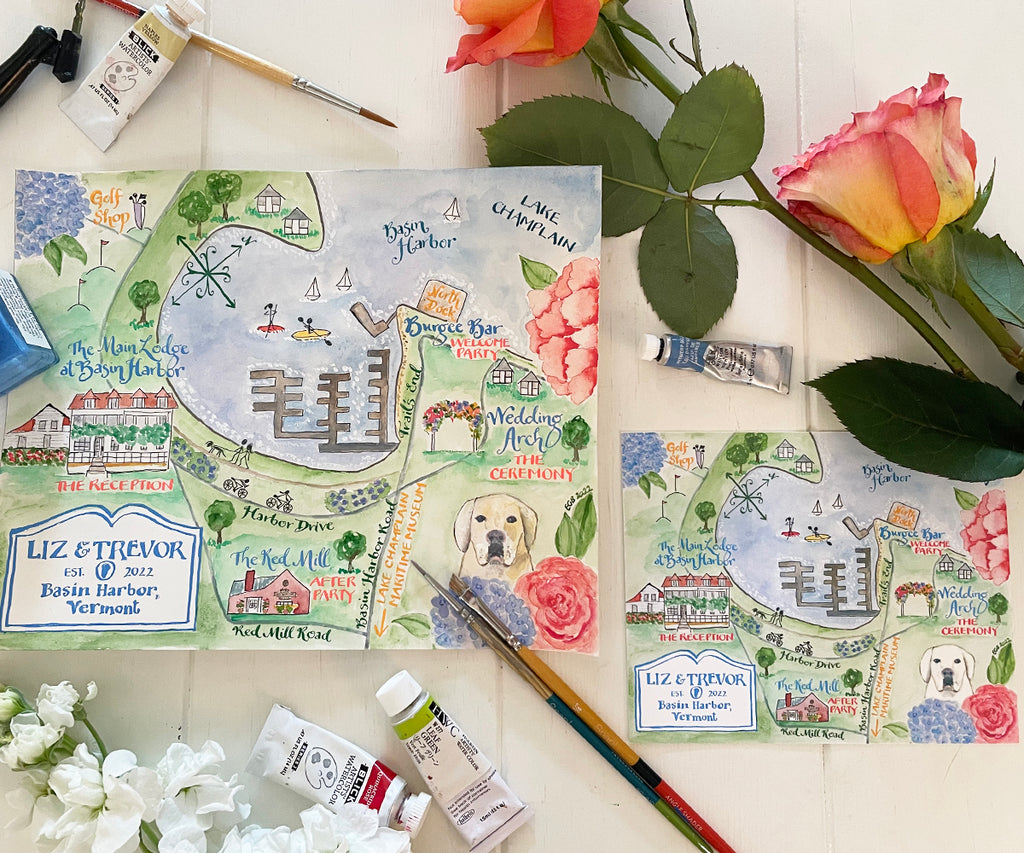 We are pleased to offer our custom hand drawn map service to our wedding invitation clients only as an exclusive additional piece to your wedding suite.  Because of the popularity of the maps with our couples, we are no longer offering our special maps as an a la carte item for people who are ordering their invitations elsewhere. 
Map pricing starts at $1,400-and you may have up to five locations drawn on your map. If you wish to have more locations on your map, that will be reflected in the price.  After the five places, all additional details will be billed at my hourly rate of $200.  Map prints start at $3 apiece and are sized roughly 5" x 6.25".  These map prints would accompany an invitation order as part of your 4 piece suite including calligraphy (either digital or hand done) and assembly.  We require a minimum number of 75 invitations to be ordered when you are purchasing a custom map.  
Please note: Due to copyright laws and the need to protect our work, we do not permit our designs to be printed outside of the El's Cards studio, and will never give permission for this to be done.  Thank you for understanding.
If this general pricing sounds good to you you, please be in touch to schedule a time to talk about your wedding stationery and map.  We only take on a few of these projects per year, so it is advised to reach out nice and early. We also have many beautiful maps in our existing collection which people often enjoy within their wedding suite.
If you are not ordering invitations from El's Cards, but are interested in having a map created just for you, you should consider one of our hand painted seating charts for your wedding reception.  We have done many map seating charts and they are unique to the couple and always a super special addition to the wedding decor.  This is a work of art that you will enjoy in your home for your lifetime together!
Please do reach out to set up a meeting or schedule a call to discuss your wedding invitations and custom map, or a special seating chart map.
Photo credits: Melissa Mullen Photography,  Ruth Eileen Photography, Brea McDonald Photography, Snap! Photography, Rachel Halsey, Kate Preftakes, Anne Skidmore