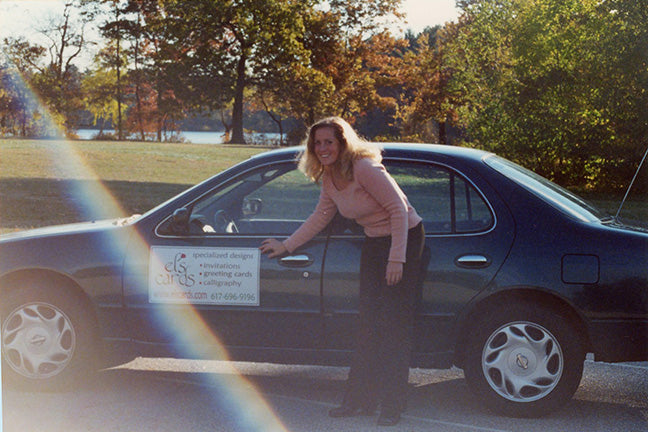 With the growth of El's Cards over the years, our logo has also done some developing and changing.  When we first started out, this logo was on our home page. It was the creative genius of the wonderful team at Coastline Graphics!  The rubber stamp image was for the website, and the text from the stamp was on the El's Cards business card.  Each business card had a little flower hand painted as the apostrophe in "El's".  Don't miss the sign on my old friend the Nissan Altima.  That sign features my original logo.  One of my good friends came with me to the nearby reservoir to take this shot first thing in the morning!!  As a side note, this photo was taken in 2002,  just after I left my waitress job at Legal Seafoods to pursue my artistic career!  Starving artist is a real thing ;)
The next version of our logo was done with the help of my friend, Donna Kim, from
The Perfect Details
.  Donna was so great and she helped me learn Photoshop so I could make my own changes to the website.  She came and sat with me for hours and taught me these skills that really changed our approach to selling online. I was able to add things when I needed to....and that was really a game changer for El's Cards.  Thank you, Donna! You really helped me take things to an independent level.

In the photo below, you can see the home page of our original website on my super huge laptop. This was after Donna taught me how to do changes, so you will notice the logo above is on the home page.  The photo is in 2006....note the flip phone, computer monitor, and 20 pound (maybe I'm being dramatic...but it was heavy!), big fat laptop behind me!  And the width of the website was 600 pixels wide! Whoa!  At the time, I had one working printer for jobs, and now Bob has 6 printers (I still have one!)
After learning how to do changes myself, my next task was to create some special headers for each of our pages.  The Weddings page used a layout with one of my favorite hydrangea designs and hand calligraphy for the heading.  
The next version of the logo was very similar, but it got a face lift with the use of one of my tulip designs where the hand painted flower used to be. At this time, I had begun printing cards vs. painting everything by hand.  We had this new website done in 2012, and I painted the pen design to use as page headers.  The full color floral design was a splashy header.  Periwinkle is my favorite color, so we chose that for our website background.  This is our Wedding Invitations page on our second website.
When Bob came on board in 2015, we made the decision to go all out and hire someone to create a new website from start to finish!  We had received so many requests for wholesale, and wanted to be able to offer this as a choice on our website.  When working out the re-brand, I created our current logo and there is so much versatility to it.  It is a perfect background for our pretty seasonal headers.  
Of course, I like to come up with something right away that works.  There were many other attempts before we settled on this final logo for our re-brand!  Even when I was a girl and was working on  learning calligraphy, I would get upset when it wasn't perfect the first time around.  Now it is so clear that the best way to get better at something is by hours of practice and by always trying to improve technique.
It's really been an exciting to look at all the different changes through the years.  One BIG thing I have learned in the past 20 years.  I can't compare myself and my business to others in my industry.  It's important for me to look back over the years and see how far El's Cards has come--compared to when I was starting out.  I'm very excited about my upcoming Blog Series on 20 things I've learned in 20 years!  Stay tuned for that five part series. 
Thanks for reading!
xoxo
El