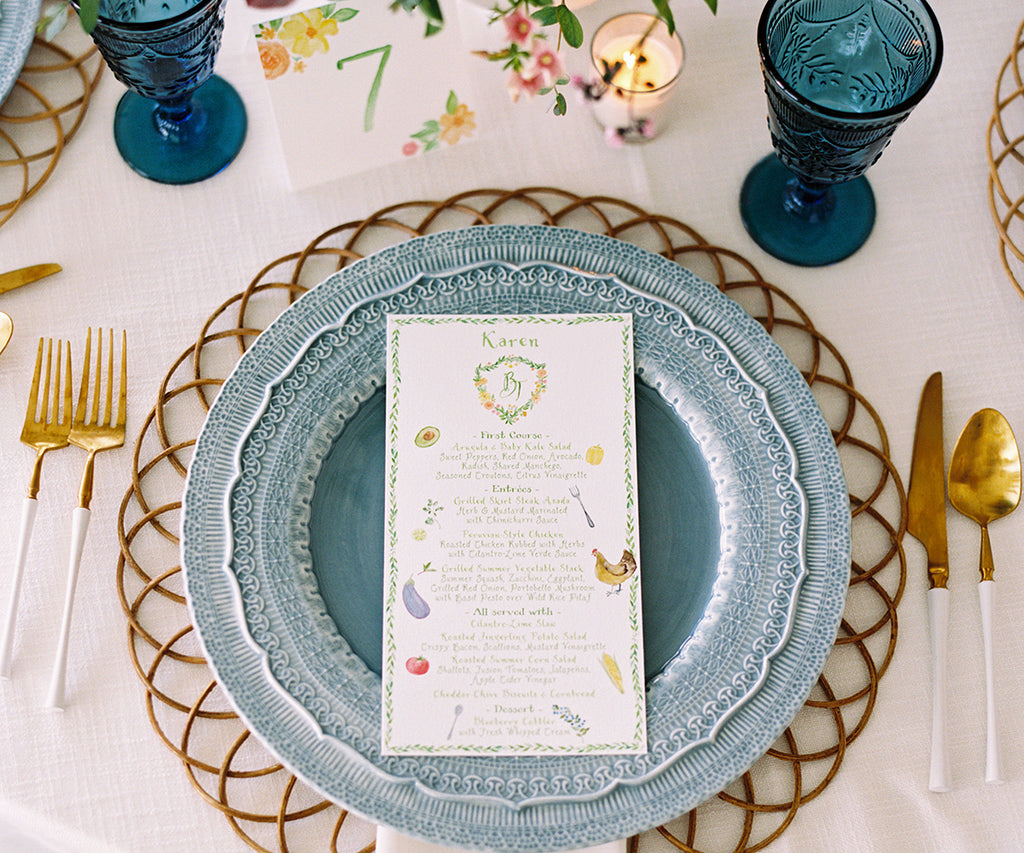 Our hand painted custom crests are so special!  We love how personal and versatile they are.  Use your wedding flowers, shells, or any special design elements and colors to have El create something just for you.
These beautiful and unique designs are fun to add to so many items in your wedding celebration!  At the top of the invitation is the classic approach.  We then use elements from your crest to create the accompanying pieces like the reply card, envelope liner, envelope artwork, and more!
Each crest is lovingly painted by hand right here in the El's Cards studio.   El likes to work large to capture the finest details, then shrinks the image down for our print pieces.  We do not use digital painting-crests are all painted with El's hand mixed watercolors and paintbrush!
For the wedding day, this special artwork is commonly added to the top of a semi-custom seating chart to welcome your guests, menu cards, welcome sign, napkins, labels for welcome bags, programs...you name it! El has also done a crest for the Save the Date and carried those paintings through to the invitation.
Pricing for a custom crest starts at $1,000 and we require a print minimum of items done here in our El's Cards studio after the design is complete. That minimum can be met with either invitations, wedding day items, or a mix of both.  Contact us if you are interested in getting started on your own custom wedding crest.
Photos by Jenna Brisson, J&J Photography, Melissa Mullen Photography, Sabin Gratz, Marie Cowan, Kate Preftakes