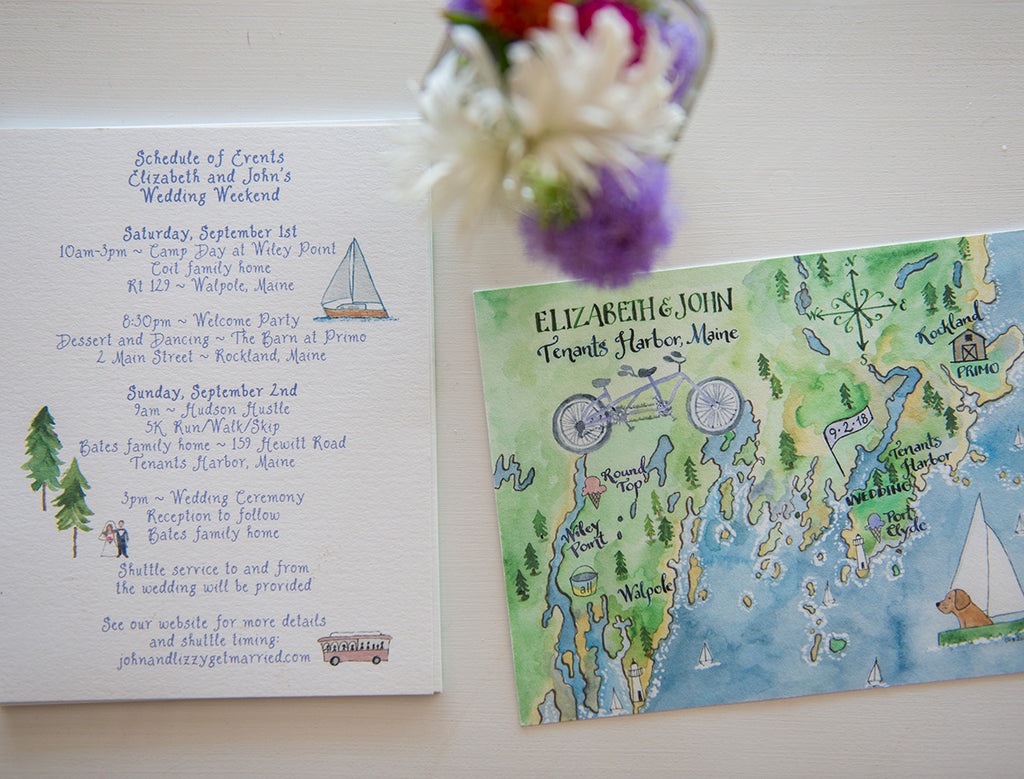 The schedule of events is a fun additional piece to add into your wedding suite.  It's a great place to give your guests a little more detail and let them know about your wedding weekend.  El designs each couple's schedule of events in accordance with the details of the wedding and uses fun illustrations to give your schedule some personality.  Minimum order is 75 schedule of events cards.
Schedules of events to accompany invitation suite-$3.00 each

Schedules of events printed on the back of one of our existing maps or a custom map-$2.50 each (map prints on side one are $3.00 each)

All schedules are subject to a setup fee at El's hourly rate of $100.  If ordering special artwork, a design fee will apply.  Average setup time is typically under an hour.  
We have so many illustrations to include on your schedule of events including the following and more:

Welcome party-champagne toast, Adirondack chairs, sailboat
Transportation info-trolley, boat
Ceremony-bride and groom (hair color can be adjusted to fit the couple)
Reception-tent, fork and knife, wedding cake, champagne toast
After Party-Beer steins clinking, sparklers
Farewell Brunch-pancakes, bacon & eggs, coffee & doughnut, mimosa & blueberry muffin
***Please note:  We do not allow our images or artwork to be printed outside of the El's Cards studio, due to copyright laws. Thank you in advance for understanding this policy.  We do encourage you to share photos of our work on social media! 
Thank you for the beautiful photos:  Rachel Halsey, Snap! Photography, Rachel Buckley , Kate Preftakes, Joe Mikos,  Brea MacDonald and Kelly Dillon.