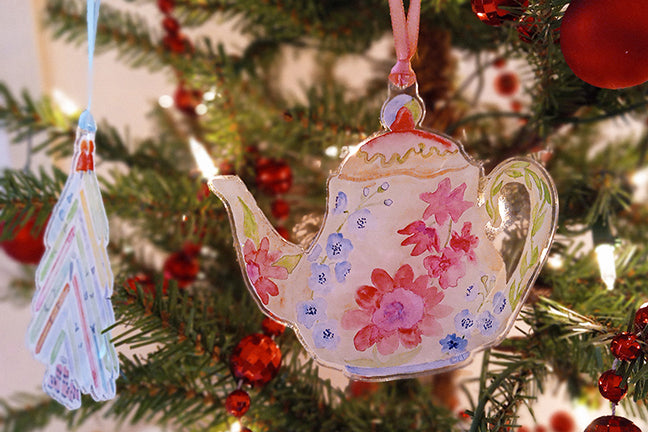 One of my favorite days of the year is here at last!!  And we have a super fun new addition to our product line this year that we know you will love. Of course, you can skip reading the post and jump right to the What's New? page!
Let's kick things off with the new item, just because I can't help myself! Drumroll please-welcome to the El's Cards collection...
Ornaments!  We have been getting requests for ornaments for years and we are so happy to add them to our collections just in time for the holiday season 2023. 
We are starting out with 6 fun watercolor designs to see which are people's favorites.  If these are well received, I already have some ideas brewing for other ornament designs.  These really show off the watercolor designs beautifully.  Each ornament has a satin ribbon for hanging.
These sweet beauties come in a silver organza bag with a ribbon draw string.  If you are putting them away after Christmas (and you may want to enjoy them all year long, hanging in a special place!) we suggest you store your ornament in the bag to keep them looking their best.
NEW Christmas card designs are always a fun project.  Our new designs this year include Christmas Snow Globe, Buoy Tree, Lifeguard Stand, and (a much awaited request) 12 Dogs of Christmas!  Yes...we are cat people over here...but every dog must have his day ;)  so what better way to honor some cute canine companions than putting them on a Christmas card?!
NEW Christmas notepad- Our Beautiful Tree card has been a huge hit over the past couple of years. So this year our Christmas notepad features that favorite artwork.  This lined pad has a fresh green wash background as you make your holiday "to do" list.
NEW Gift Wrap- This was a FUN painting!  When thinking about new gift wrap for this year, Bob suggested we blow up the design on our Beautiful Tree card.  Since the card design was painted small, I needed to paint the details large to get the details just right.
You may notice that the little angel from this painting also is featured on a couple of other new items (including an ornament!)  Merry Ornaments will surely bring a smile.  All the colors!  And as with all our other Christmas wraps, there is a beautiful and harmonious wash on side 2.  Be watching later in the month for this design on another special item (or two!)
And....we are still running our gift wrap special-25% off gift wrap when you purchase 3 or more rolls.  This applies to this colorful new wrap as well.  No coupon code needed-discount happens automatically in your cart.
Don't miss the new Angel and Gingerbread Cookie tags that look great with the new wrap design.
NEW Double sided desk calendars for 2024- this was another big request from our customers.  The front side is the calendar that you know and love, with a little bonus! Printed on side 2 is a full color print of that month's design. So at the end of 2024, you have 12 5" x 7" prints to enjoy-one of each month's artwork. 
You can see side 2 of each calendar below!  Of course, the classic one sided version is also available.
NEW People's Choice Poster Calendar- Our People's Choice Desk Calendars were so popular that they sold out back in September.  So we decided to create a poster calendar (either 11" x 14" or 16" x 20") featuring these favorite designs.
Your Beloved Bookshelf (3 new paintings)-These new designs were introduced earlier this year, but in case you missed them, we now have a Hydrangea, Coffee Cup, and Baseball.  This gift was one of our best sellers last holiday season.  We will be taking orders for this item until December 1st this year, so definitely order early!  There are couple more in the pipeline (one for kids), that I am planning to  complete in the next couple of weeks. Stay tuned....so many ideas, so little time!
NEW Tea Towels-Shell Tree is back! One of our best selling designs is on a blue vintage style stripe towel this year.  Peace Ornaments is new on the red stripe vintage towel, and the always festive North Pole Sign is on the white flour sack.  More towels are coming in over the next couple of weeks and we will put them up on the site as soon as they arrive!
As a sidenote-so many of you have purchased our slightly imperfect "I Love Tea" towel!  Those are almost gone but we do still have a few left.  Thank you for all your kind messages after receiving your towels.  We will be getting more of these (in perfect condition) later this month.
We are so happy to introduce so many new designs and items this year.  I will be adding things as they arrive throughout the month, but don't worry, you will be the first to know about all new additions.
Thank you so much for taking a look at all the fun new designs and items to enjoy!  So many of you have already started ordering your cards and we thank you for that. Next weekend (11/11) we will be at the Seacoast Artisans show in Newington, NH. If you are local-hope to see you there!
Have a wonderful weekend,
xoxo
El & Bob