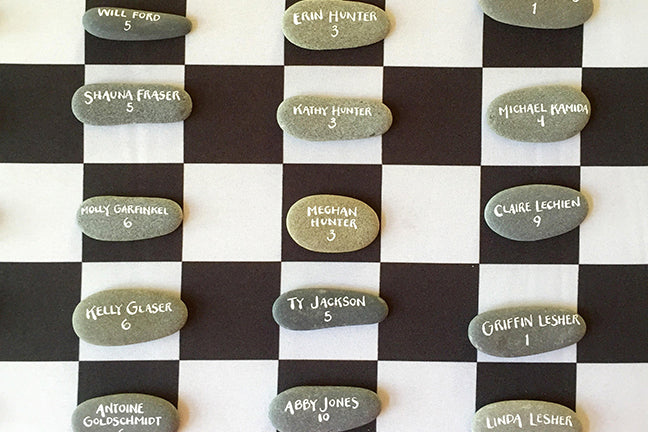 Calligraphy means "beautiful writing".  When you think of calligraphy, you may think of receiving a wedding invitation in the mail with your address written by hand.  In our technological world, calligraphy on wedding or party envelopes is a super special touch. 
But have you considered using calligraphy in a unique accent as part of your wedding?  Over the years, I have been hired to write in calligraphy on all sorts of things!  It seemed like last year was definitely full of such projects. 
Mussel shell place cards-Kate Martin of Beautiful Days was the mastermind behind this project.   Each mussel shell was hand lettered with the first name of all the guests sitting at the head table at Sarah and Brendan's Prouts Neck wedding. The nautical blue ink really made the names pop!
Thank you Brea McDonald for this beautiful photo!
I also did gold calligraphy on oyster shells recently for a styled shoot at Fort Stark in New Castle, NH with Leander Matos Weddings and Rachel Halsey Photography  and Wanderbird Floral.  Love the look of calligraphy on shells.
Rock escort cards-Sarah Goodwin of Daisies and Pearls dreamed up this idea for a rehearsal dinner on an island off the coast of Maine. So unique!  I used a white ink and a classic block style calligraphy.  One of the best features of writing on shells and rocks is when you make a mistake, you just wash off the ink.
Shakespearean sonnets on pink books-When Paula Davies of Twig and Fern approached me about this project, I was immediately excited!  My obsession with reading (and calligraphy, of course) made this the perfect project for me.  Paula painted all the books different shades of pink, put gold glitter on the edges, and then tied them into groups of 3.   She gave me a list of the groom's favorite sonnets to hand write in gold calligraphy and I got started.  Each one was different and that was my favorite part of this project.  She then used them as part of the wedding centerpieces.  Such cool attention to detail!
Baseballs-I wrote in calligraphy the name, date and seating assignment of the wedding guests on baseballs in a deep silver ink.  Very interesting idea!  Bob swears that the reception was out of hand with people throwing around the baseballs after they found their seats!
Windowpanes and mirrors-These were a couple of Kate Martin's favorite ways to display the seating plans at her weddings last summer.  Lettering on glass can be challenging, because of the angle of the pen and the size of the space. Also, the subtleties of the fine vs. wide point of the calligraphy letters are more difficult to capture. But in the end, the overall effect is worth the hard work!
Tea cups-One of my all time favorite projects was creating a special tea party theme shower invitation!  The mother of the bride dreamed it up and we worked together to bring it to life!  The bride was a total sweetheart....and I loved being in on the big surprise.  The highlight was the collection of beautiful teacups she purchased.  I wrote on them in gold calligraphy to honor Kerry's Bridal Tea...with the date and a special quote.  The bride was totally surprised and loved them...as did the guests!
One thing that can be said about all of these uses of calligraphy…they all make a great impact!  Your guests will undoubtedly enjoy any way you incorporate calligraphy into your wedding festivities because it is so personal.