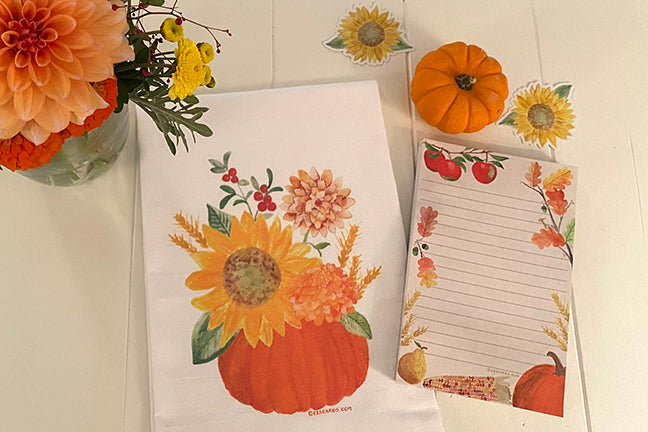 El's Cards is in full holiday mode!  We thank everyone who has been ordering cards and gifts for the season.  What a wonderful response we are getting to our new offerings and designs.  So exciting!  We are so very appreciative of our customers, both old and new.
Next week on Thanksgiving, Bob and I will be staying home and enjoying each other's company.  We do have 2 fresh pies that we are picking up this Sunday from the Greenland Women's Club. Knowing the sweet tooth we both have, the pies may or may not make it until Thursday ;)
Because we know many people will be unable to see loved ones this Thanksgiving, we are offering a fun little special....while they last.  It's called the "Missing You this Thanksgiving" package. 
Here's what it includes:
1 Thanksgiving Centerpiece tea towel
1 Autumn Colors notepad
3 sunflower stickers
1 Thanksgiving card with your personal message handwritten inside
All tied together with a pretty ribbon and wrapped in colorful tissue and shipped directly to the recipient (or you can pick up or have it shipped to you if you prefer)
We have sold quite a few already! So if you are interested, don't hesitate!  Please note: If you would like to send to more than one person, order each one separately so the shipping addresses are correct. And if you have any questions, you can always email me at ellen@elscards.com.  Last day for us to ship for delivery before Thanksgiving is Saturday, so please have orders in by this Saturday, November 21st at noon.
This Saturday and Sunday would typically be two of our favorite shows of the season.  We would go to Stratham on Saturday, then pack up the van and bring all our items over to Greenland for a Sunday show.  Instead, for 2020, we are participating in two special virtual events this weekend.
This event has happened already.  Thursday night, we were part of an online holiday market on Zoom sponsored by WOMEN (Women of MA Engagement Network). Thank you so much for my friends who came to this virtual event. You can download the list of participating vendors here. List is complete with links to all of the vendor websites, shop info, or Facebook page.
And then....all this weekend we are participating in a huge virtual market sponsored by 27 Teas.  We had done several markets with them in the spring, and the vendor quality is fabulous!  Be sure to check out this virtual market...all the vendors are offering some type of a special or gift!  Over 80 vendors from Tea, to Macrame, Jewelry, Bath items, Candles...and of course, Cards! Plus, almost any other gift you could want.  It's a great way to support small business and "shop local"....but since it's virtual, we know we will hear from our friends all over the U.S.!!
We hope everyone has a fun weekend.  Thank you so much for being wonderful customers!  Bob and I are so grateful to you all.
xoxo
El