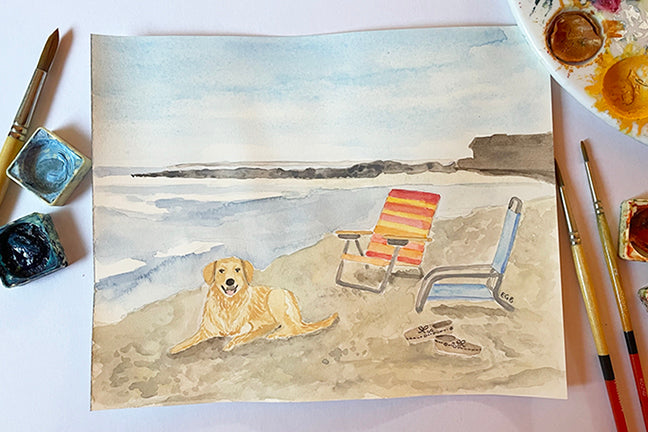 Dear Uncle John,
Thinking of you with love and gratitude.  You have always been so important to me.  My earliest memory of you is me sitting in the back seat of Mum's car, with you in the passenger seat, going on one of our many excursions.  When I think of my earliest years as a little girl, you were a huge part of my life.  We would go shopping or on other errands, or just on an adventure.  You and Mum were always so close.  I loved us all spending time together.
Thank you for all the hours you spent with me playing with Fisher price kids on the living room floor.  I remember you being at our house for dinner a few times a week.  You were so good to me-you always treated me like I was special.  I remember once we were out somewhere together and a classmate from school saw us and asked me if you were my dad. I was so proud to be asked that question.  You were better-you were my Uncle J. 
Thank you for always listening to what I had to say. You never made me feel like it was silly. I could always be myself with you. Every year before Christmas, we would go Christmas shopping together.  It was something special I looked forward to doing. You would take me someplace nice for lunch, then we would go shopping for gifts for me to give to my family!
Of course you were always there for the holidays and occasions, and you always made them extra special for me.  One birthday you took me to the jeans store and bought me my first pair of Levi's.  When I was in jr. high the big thing was wearing a cowboy hat to the school dances.  You didn't get me an ordinary cowboy hat-you got me the nicest one-it was a Stetson.  I loved it…I was clueless about how fancy it really was, but I was so proud that you had given it to me.  You even took me and a couple of my little buddies to see Shaun Cassidy when he came to the Civic Center.  What an experience that must have been for you. You were the coolest uncle!
How you loved the beach!  When I would go to Gooch's Beach in high school with all my friends, we would always come down to say "Hi!"  You had your spot where I knew you would always be sitting in your chair with a well worn pair of docksiders next to it. 
You always remembered my friend's names and treated them with kindness. From the time I was a small girl through my young adult years, you made a lasting impression on all my friends who met you. To this day, I am still asked "how is your Uncle John?"  by many of my friends- and by people who I sometimes don't even know.  You had a magnetic personality.  Everyone remembered you.
When you met Aunt Kathy and had been dating a few months, I remember you called our house and I answered the phone.  You told me that you were getting married. I was happy that you were because I loved Kathy! And I was so excited that I was the first person you told. It felt like a real honor.  You didn't treat me like a little kid and ask for Mum on the phone.  I got to be the first one to know!  That is something I'll never forget.  Laura and I brought up the gifts at the wedding-you always included us!
Thank you for hosting the best "Uncle John's Christmas" for so many years!  You and Aunt Kathy have a beautiful home-so many thoughtful details everywhere.  The two of you put so much planning into the celebration and always served the most special and delicious meal. When we were accepted to the Laudholm Farm show a few years ago, I was so excited to tell you that news! Every year, you gave us the most unique and beautiful gifts that the two of you found at that craft fair. There are so many of these gifts that remind me of you scattered throughout our home.  
When you first met Bob, you welcomed him immediately.  Bob loves animals, and hit it off immediately with Finn, your beautiful golden retriever. And when we got married, of course you and Aunt Kathy were there to be part of the celebration! We treasure the photos you gave us from that wonderful day and I'm so happy that you were there.
I am sad that you are not here any more, but the memories I have of you will always be so special to me.  Your big laugh and handsome smile, your fun spirit and your great sense of humor. Your unconditional love.  So many wonderful memories of my special Uncle John.  There are so many of them....too many to list.  
My dear friend, Jody, and I were talking recently....sharing memories and remembering you.  Her comment put it simply, and the best.  "Everyone should be lucky enough to have an Uncle John." I have never taken for granted how lucky I was to have you in my life, and I can only aspire to be that aunt to my own nieces and nephews. 
The calendar paintings are one of my favorite projects every year.  We do our big 2024 calendar launch later this week.  It seemed only fitting to do a special painting in your honor.  So May of "The Sea" calendar is just for you, Uncle John.  
Love you Always,
El