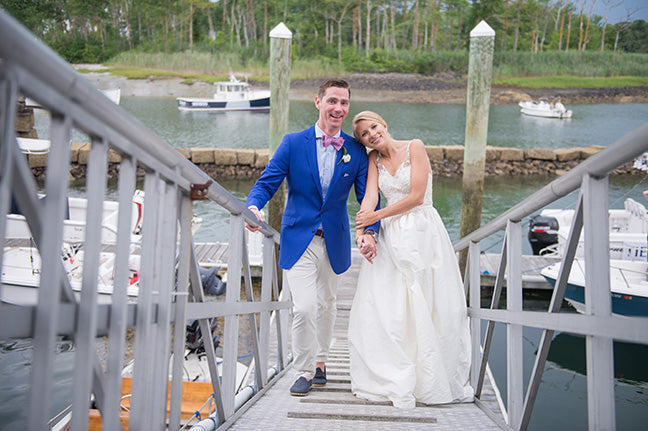 This Kennebunkport wedding was another one of our fun projects with the talented Kate Martin from Beautiful Days last summer.  I have now officially dubbed 2018 The Year of the Mussel Shell at El's Cards!!  This wedding was another occasion where the bride and groom selected sweet mussel shell details to be incorporated into the wedding decor.
The first detail we created was a custom watercolor map to be used for the gift bag.  All the couple's special places were on the front, and the back had transportation info and the schedule of events.  Of course there was a whimsical painting of the couple's dog, Ham, on the map too!
Our next detail for the wedding was to design and produce a ceremony program using our watercolor painting of St. Ann's Church...an iconic Kennebunkport landmark with stunning stonework architecture and views.  The couple did their own paper insert with a sheet of music.
For the reception, I designed a menu for each guest's seat.  Then on top of every menu, the guest found a mussel shell with their name hand written in calligraphy.  
The guests were guided to their seats in a really special and unique way.  Instead of using a table for the escort cards, I hand lettered the guest names on small envelopes with the table names on the inside for the guests to discover!  The table names were for different street addresses that were meaningful to the family. Table names were hand written in calligraphy.
One of my favorite details was the sign for the guest book. The couple had the creative idea for the guests to sign their "Rafalskis"...since that was the groom's last name!   I used one of my favorite designs, chairlift skiers as a little artwork on the sign.
Wishing you both a lifetime of happiness together Holly and Brendan!  
Thank you for the lovely wedding day photos, Brea McDonald.
Design and decor by Beautiful Days
Additional photos by Rachel Halsey