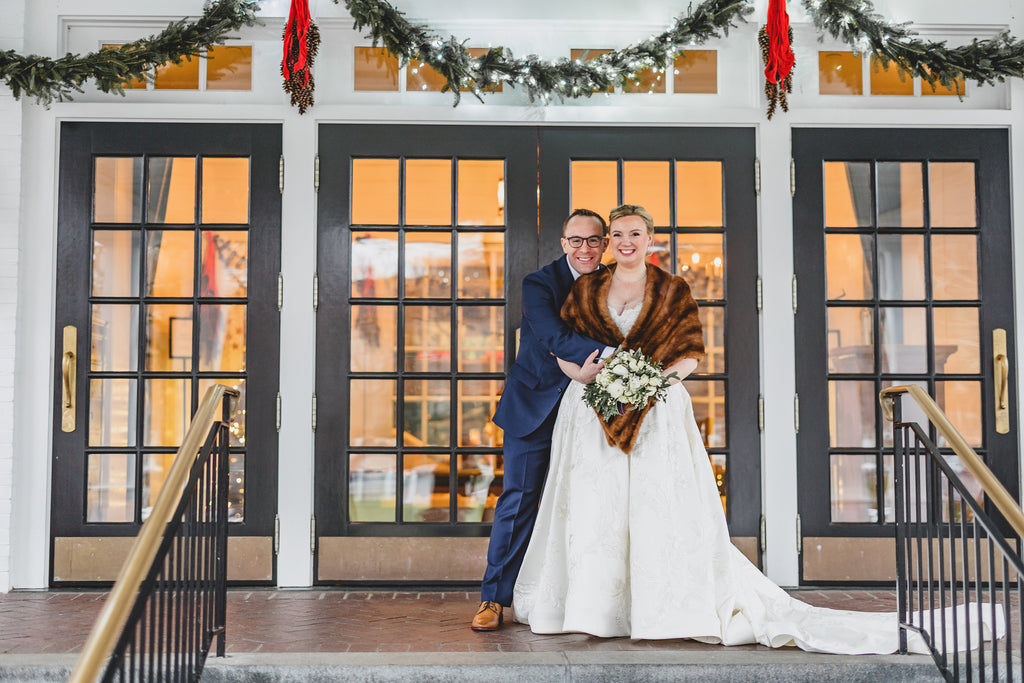 I loved everything about this wedding from start to finish!  Such a great couple! We hit it off immediately when we met the summer before their wedding year. And a winter wedding which is always fun and different.   Jess and Michael were so enthusiastic about our Woodstock map when we met at a craft show, we were the perfect match when it came time for their wedding stationery. Thank you so much for your thoughtful review, Jess and Michael!
We first encountered El at a craft fair in Meredith, N.H. in 2021. As two travelers and history majors, we were attracted to El's table by her lovely maps highlighting different locales in New England - including one of our wedding destination of Woodstock, Vermont. As we got to talking, we learned of El's incredible wedding suites and design services.
El worked closely with us on designing a custom map of our favorite places in Woodstock to feature on our save-the-dates. El also created a custom crest that included our entwined initials, the date, and florals from our wedding. We debuted the crest in our wedding invitation which included El's signature calligraphy, a luxurious envelope liner, and a response card.
We were able to incorporate aspects of the crest and many elements from the map into various paper goods throughout our wedding suite on our special day- from menus, escort cards, and the ceremony program to signage, welcome bags, and thank you notes. 
El was a tremendous partner to work with on the invitations for other events from our wedding weekend, including Jess' bridal shower and our rehearsal dinner.
The consistency of El's artwork and calligraphy enhanced the beauty of the goods - indeed, each piece was its own piece of artwork in a gallery. We are looking forward to hanging many pieces from our wedding, including our custom map which we used as a guest book, in our home to remind us both of this wonderful day.
Throughout the entire experience, El lent her guidance and incredible creativity. We are so glad that we ran into El on that summer afternoon in Meredith and are so appreciative of her efforts to bring our vision to life.
Michael & Jessica McLaughlin
This winter wedding had so many special details! From the map save the date of Woodstock, Vermont, to the custom crest and how we incorporated so many elements into the wedding day....you can really see the possibilities of going custom with a map and a crest!
One of my favorite details was definitely the custom crest!  I loved how all the wedding elements came together and we were able to pull parts of the design to use on the envelope liner and other invitation pieces. The crest as a whole was used for the welcome sign and so many other details on the wedding day (including thank you notes for after the wedding!).  Jess and Michael had so many great ideas for how they could use the artwork from their map on different signage for the wedding reception. They knew they wanted a painting of their church on their ceremony program, so I took care to add a lot of detail to that element on their map, so we could enlarge that artwork on the program cover later.
Another favorite was the ivory calligraphy on a navy envelope. Such a classic and elegant choice.  When thinking about your wedding invitations, the hand calligraphy is always a great thing to consider.  There is nothing like receiving a hand written envelope in the mailbox. Jess and Michael also opted for the double envelope which is an extra special touch.  
Putting the custom map in a large, archival mat board for the guests to sign was another great detail!  The map is a totally custom special item, so it's great when our couples choose to use that element as much as possible.  Having a large version of a map with special notes from all the guests is such a wonderful memento of the wedding day.
AH! One last favorite....the escort cards displayed on the giant wreath around the welcome sign!  Perfect!  What a great idea :)
Thank you so much, Jessica and Michael, for reaching out to us after our chance meeting in Meredith!  I thoroughly enjoyed working together. You were so organized and responsive to all my communication (separation anxiety when our emails weren't daily anymore)!  And I loved your ideas when it came time to incorporate map and crest details on all the wedding day stationery.  I am happy that we are staying in touch, and hope we can do so for many years to come.  Your wedding is a perfect example of how all your wedding stationery can tie in from the Save the Date all the way through the thank you note!  We thank you sincerely for letting us be a part of your wedding.
xoxo
El 
Ceremony Venue - Our Lady of the Snows Catholic Church