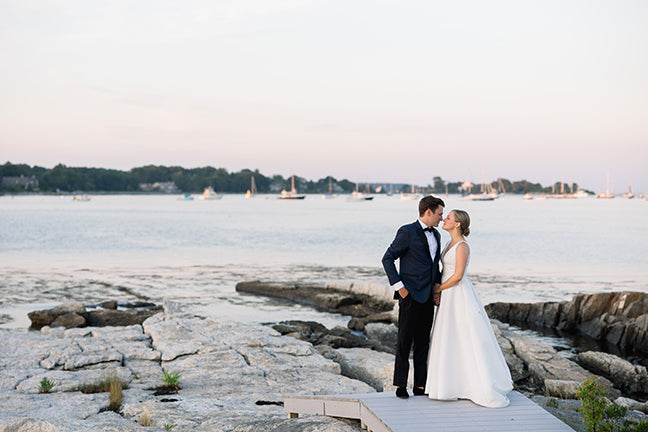 Thank you so much Katy for your kind words!  Working together last year was a delight!  Your wedding day was nothing short of stunning. 
I can say without a doubt that working with El was my favorite part of the wedding planning experience. I was referred to El by my godmother who married us - she has impeccable taste so I knew El would be a perfect fit. From our first call I could tell this was going to be an amazing experience. I knew I wanted a wedding crest that Chris and I could cherish forever, but I had no idea what I wanted it to look like. El and I spoke for over an hour on first call as I told her about all of my ideas and things I wanted to incorporate - a few weeks later I received the first proof of the crest and almost cried!. It was so unique and personal and I immediately wanted to incorporate it in every detail of our big day. I had picked out custom linens for our tables and El seamlessly incorporated details from our linens into our crest. I was very particular about the colors we wanted and El was spot on.
El was incredibly responsive and so easy to work with as she designed custom menus, matchbooks, napkins, cups for a day-after beach trip, and all of our day-of signage and details. El perfectly tailored our crest to fit each unique piece. She painted an incredible beverage sign and a very special memory table sign to honor our loved ones that could not join us - in both signs she incorporated pieces of our crest so everything felt cohesive and tied together while still being extremely unique. The matchbooks were so special to us and we made sure to order extra so we can have them forever! We are forever grateful for El's hardwork and our day simply would not have been the same without these pieces. I love that we can treasure them forever.
Painting custom artwork for a wedding is so fun when the couple allows me to express my creativity, and this was the experience I had with Katy and Chris. Katy told me about what elements she would like to include, and let me just do my thing!  It is absolutely the best compliment to receive a referral from another happy client.  And for the couple to really just trust me to take it in the right direction on my own, is another great compliment on top of that.  This project started off on such a positive note with so much enthusiasm from the bride.  
Incorporating the wedding colors and flowers to design the custom crest with ferns added was something new!  Usage of the blues in the design reminded me of the popular Chinoisie ginger jars.  Using the crest as the table number was an unexpected last minute idea,  When clients select a custom crest, map, or design, I like to use it on as many pieces as possible. So I took the florals and created a straight border for the loving memory sign.
We carried that same border onto the signature drink sign!  This one was also fun to paint! You all know how I feel about color.  Katy and Chris wanted a painting of their signature drink, the Aperol Spritz.  I set to work painting the drink by hand, and then added an orange at the bottom too, surrounded by our new chevron blue border.
Even though it has nothing to do with the stationery, the ice cream truck for dessert was super fun!! I LOVED it when I saw that line when I was creating the menu.  Creative wedding details like this one really set this wedding apart.
Thank you so much, Katy and Chris, for letting me be creative for you!  It's the best when a couple trusts me to just take the reins on the wedding details and artwork.  Wishing you a lifetime of happiness together!    I truly hope our paths cross again, Katy and Chris :) xoxo
Photographer-wedding day: Marie Cowan Photography
Florals:  Boat House Blooms
Wedding venue: Wentworth by the Sea Country Club