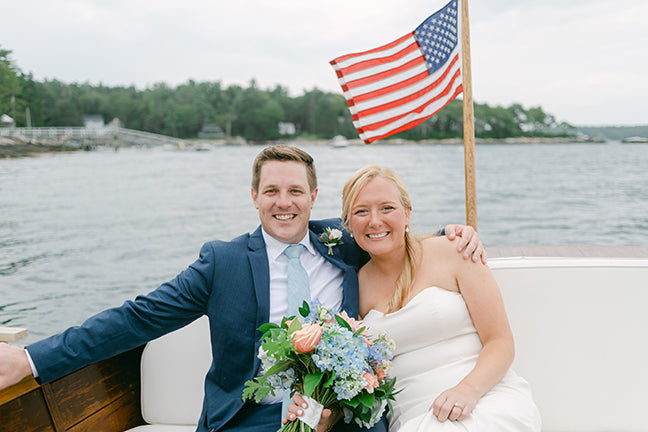 Thank you to the bride, Julia, for this thoughtful review. Your day was picture perfect and by looking at the photos, I feel like I was there!  Thank you for trusting me with so many special details. 
It was an absolute pleasure working with Ellen and Bob! El's Cards was one of the first vendors I chose because of her beautiful designs and endless combinations! I went with the hydrangeas and blueberries which paired perfectly with our Coastal Maine Summer wedding.
Being a Covid bride meant making a lot of hard decisions and having to constantly change our timeline. She had such lovely postponement cards which turned a sad moment into a special part of our story (we used the oyster shell with 'Aw Shucks'). Ellen was always so calming and kept us well organized to meet our deadlines! I would 100% choose El's cards 10 times over if we were to do it all again!!
Ah yes....the winter of 2020 before all this pandemic craziness started!  I remember having a great phone call (pre-zoom meeting also....for me anyway!) with Julia and her mom, Lisa! We talked about the direction of the wedding invitation for Julia and Greg's Maine wedding.  Fast forward to June 2020, and we were sending out a Postponement card instead of the wedding invitations.
We went back and forth a lot over the year, and then in January of 2021, I heard from Lisa, that the wedding was on track for August. And as you can see, it happened!  It was a beautiful celebration at Linekin Bay Resort in stunning Boothbay Harbor, Maine.
One of our most popular wedding day items in 2021 was the ceremony program.  So many of our couples selected this detail to share with their guests.  Julia and Greg's program was a 2-sided card featuring their Hydrangeas and Blueberries design.  
Some of the special wedding day details selected for the reception included a Hydrangeas and Blueberries seating chart, double sided table names with a number on the second side, and customized menus with each guest's name at the top.  The stunning florals and blue glass goblets are a gorgeous pop of color on the tables with the personalized guest menus. 
I love the special candles in the gorgeous cut glasses that were done by Lisa, the mother-of-the-bride.  It's so much fun to see how everything comes together on the wedding day!  Working with this family was a delight!  It's so strange to be in touch with people for literally a couple of years-back and forth with phone calls and emails.  Then after the wedding day happens, I always get a little sad to not be emailing all the time-because I get attached to my clients. ;)  This is definitely the case here.
Luckily, thanks to social media and email, I'm still in touch with this wonderful family. Wishing a lifetime of happiness to Julia and Greg! Looking forward to seeing where life takes you.  The shot of the two of you in the boat makes me smile. You are so happy!
I saved this lovely email that Lisa sent to me after receiving final proofs for all of the wedding day details.  Since I started the post with the bride's kind words, I will end the post with a sweet note from Lisa.  
I can't believe how pretty these look. I mean, I can, but I guess I am having "a moment" realizing how long we've been working on this, all that has gone on over the last two years and now...seeing our planning spelled out in your beautiful stationery. Thank you for your incredible talent and your support.
Swoon-worthy!
L
Beautiful Florals by Midcoast Blooms
Wedding Day photos by Rachel Buckley Associates
Venue-Linekin Bay Resort