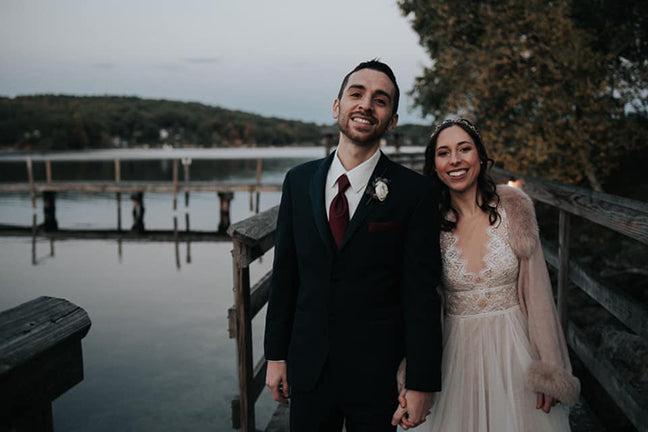 I appreciate these kind words of recommendation from Brenda, the thoughtful bride:
My husband and I got married on 10/9/2020. Throughout our planning process, we knew that we wanted a seating chart that was unique and could be utilized after our wedding. Our venue, Mill Falls, recommended we contact Ellen - and the rest is history! Working with Ellen is such a treat. She is warm, welcoming and very knowledgeable about her craft. I immediately felt at ease after our first phone conversation and I felt comfortable knowing that the vision of our seating chart was in good hands.
Ellen takes the time to get to know you and your vision, and she's extremely communicative throughout the entire process. Whenever I needed a question answered, Ellen had a timely response. We encountered an issue with the first frame that we ordered and Ellen immediately fixed the situation. When the day came for us to pick up our seating chart, we couldn't believe how beautiful and detailed the artwork was! It's incredibly special. Our guests raved about how fun and unique the seating chart was, and my husband and I cannot wait to hang this beautiful wedding keepsake in our home. We can't recommend working with Ellen enough. Thank you, Ellen! 
2020 was an unusual wedding year, as we all remember! I was so excited to get a call from Brenda that summer before the wedding, requesting a hand painted seating chart for her Church Landing wedding on Lake Winnipesaukee. We love that gorgeous venue and knew the event would be stunning. I was honored to be asked to do this special piece, and of course, said yes to this fun project!
Brenda told me about the flowers and greenery being used, and let me just run with creativity on the seating chart.  I had fun including the lake, mountains, and so many small touches, like the couple in the Cris Craft, a little painting of Church Landing, and colors representing the beautiful season of autumn throughout the mountains.  Brenda was wonderful to work with on this special painting! She was open to my ideas and suggestions.  
One of my favorite parts of painting a seating chart is when the couple comes to pick it up.  Brenda and Derek were so happy with the results!  It's always fun when the couple sees each little detail the more they look at it.  Like little surprises all over the place!  Creating this seating chart brought me so much joy last year.  Every time I paint one of these, I say to Bob "I think this one is my favorite!"...and he reminds me that I always say that. What can I tell you?  I love what I do and get so much happiness from this special and totally personal wedding project.  Every seating chart I have ever painted is unique for every couple-just like their own unique love stories.
Thank you, Brenda, for taking the time to write such a beautiful review of your experience with El's Cards.  I wish you both the very best in your married life together, and hope you enjoy your seating chart artwork for your lifetime together!  I can't express how special this project was for me during such a challenging year.  Thank you so much for reaching out and trusting me with your wedding seating chart!
And thank you to our friends at Church Landing! We love working with you and appreciate the referrals you send to us every time. Looking forward to being up there again soon.
Wedding Venue Church Landing
Wedding photos and hero shot by Micayla Jean Photography
Seating chart photo by El :)