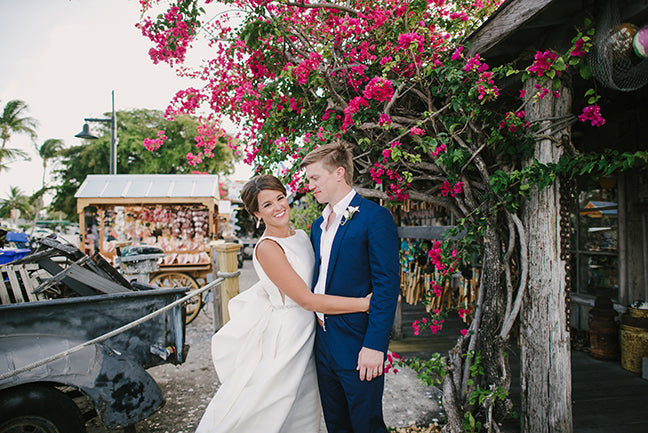 Our first wedding of the 2017 season was one of my favorites!  Meredith, the bride, reached out to me in August of 2016 through a referral from another great client.  She had seen our maps and was interested in having us create her wedding stationery...including a custom map of Key West, Florida.

Meredith and Scott had perfect timing!  I was in the process of creating new wedding suites for our website, and in her honor "Tropical Melange" was created.  The invitation featured a palm tree with a sand border, and the reply card had a starfish with sand border.  We used the special custom map of Key West featuring the Southernmost House and the couple's other special locations...and of course their dogs had a special place on the map too!  Guests were welcomed to the Southernmost House upon arrival with a special sign the couple had requested, using our watercolor rendering of that gorgeous Key West landmark.
We carried the palm tree theme over to the wedding day starting with the program fans...featuring a pop of green with the chiffon ribbon and Meredith and Scott's beloved pups!  Perfect choice for a warm day in Key West!  Don't miss the palm tree signage hand-lettered in calligraphy for the reception food stations.  The map was also used at the reception as a sign in board...a creative alternative to an old fashioned guest book.
Thank you so much, Meredith for your kind words!:  Working with El during our wedding planning was simply a joy. She is talented, creative and helpful! A friend of my sister's had previously used El's Cards for her wedding, and it wasn't a week after I was engaged, my sister encouraged me to look at El's site; immediately, I was sold. Her work is incredibly unique; I just fell in love.
Personally, I did not love planning a wedding, but El made this important part so organized and easy. She was always willing to have a phone call if I needed anything. She was very timely and frequently sent me sneak peeks of what she was working on and was respectful of my feedback.
I was out of the country when my invitations went out, and it was the most fun to return home with dozens of messages from my recipients about how much they loved the invitations (especially the envelope liner map of Key West). When I got home and received the invitation, I actually cried because the invitations turned out so beautifully. Multiple people inquired about her work.
Hands down, El was one of my favorite wedding vendors, and we will definitely work with her again in the future! 
Some exciting news to share!  Meredith and Scott just had a beautiful baby girl!  Congratulations to you both!! She is the sweetest!  One part of my job that I especially love...getting to know my couples and staying in touch after the wedding! Wishing you both so many blessings in your life together.
Wedding Photography: Evan Rich Photography