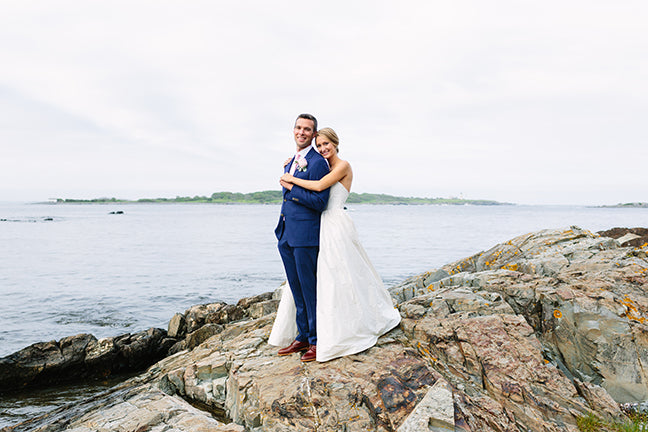 I was so thrilled to hear from Heidi Brissette at She Luxe Weddings last winter. She was working with this lovely couple on all the aspects of their Biddeford Pool, Maine wedding and the bride was interested in El's Cards creating the stationery! Emily and I were introduced via email and the fun process of working together began!
We got started with the custom wedding invitation suite and a special map.  The couple liked the peony and blueberry designs best, so I created some new peony paintings and layouts especially for their invitation.  Their dog, Leo, is an important part of the family...so you will see Leo drifting in a little boat on the couple's hand painted, custom map and included in so many other aspects of the day as well!  The drink was named "The Leo"....and he was featured on the cocktail napkins as you will see in the gallery below.
Of course, a picture is worth a thousand words...enjoy all the lovely photos shown in Emily and Jon's special gallery as photographed by Rachel Buckley.  A few of the more basic :) photos were taken by yours truly.
There were a number of unique details that we created for Emily and Jon's wedding!  One of my favorites was the program. The program was presented in a bag of flower petals for the guests to toss as Emily and Jon walked down the aisle as a newly married couple!  I also really loved creating the schedule of events cards. They had a little icon representing each of events, and they were given to the guests in a welcome bag. 
Bob and I took a ride up to the Abenaqui Club on the day of the wedding, to see how everything looked all set up.  It was STUNNING!  The flowers were so incredible and not a detail was missed.  The cake even had a little statue of Leo on top!  I took so many photos of the flowers that I will be painting peonies all year long!!
Thank you, Emily, for your kind words :  "Working with El's Cards was among the best decisions we made during the wedding planning process. Not only is the final work product stunning, but the process of working with El (and Bob!) is a joy. She keeps you in the loop for every step of the way, asking your opinion on the tiniest details in a way that makes you feel very connected to the entire experience, but not overwhelmed. We worked with El for a custom invitation suite which included the invitation, RSVP card, reception card, custom envelope liner, a personalized stamp, and of course, a custom map. We loved the vision El put together for invitation suite so much that we also enlisted her to design and create all the printed materials at our wedding which included: a ceremony program, a menu, signage for the bar, cake, and photobooth, a weekend itinerary for gift bags, the logo for our photobooth, cocktail napkins, and even a Snapchat filter. Trust me, she can do it all! El's attention to detail and eye for design helped us establish the feeling we were hoping for at our wedding. Who knew our dog would look so adorable surrounded by blueberries and peonies?! She is timely, responsive, and incredibly thoughtful. She consistently put together many different designs for our custom items and allowed us to pick what we liked best—though it would have been impossible to make the wrong decision as everything she designed was flawless and lovely. One of our wedding guests even reached out to El after our wedding and had her create one of our wedding readings as a beautiful piece of art that we now have hanging in our kitchen. Her work is beautiful, she is a joy to work with, and we cannot imagine our wedding day without her presence. Thank you, El!"
This fabulous couple's wedding was featured on the BRIDES magazine blog!
Planning: Heidi Brissette of SHE Luxe Weddings
Photography: Rachel Buckley Photography
Cake: Lisa Parker's Cakes for All Seasons
Florals: Lotus Floral Design