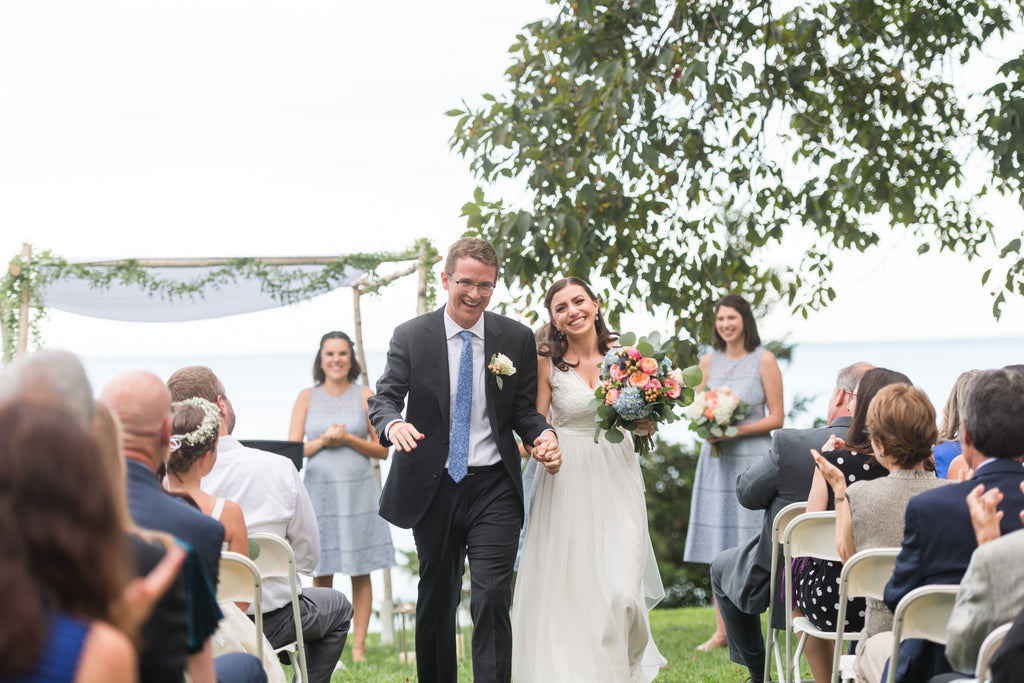 We thank you, Libby and Jamie for this lovely review!-
Working with Ellen was such a joy. We found Ellen late in the planning process and we are so grateful that she was able to accommodate our timeline. She is creative, organized, and professional. She guided us through the design and ordering process and kept us right on track with her patient guidance.
Ellen's designs are all so beautiful, we had a very hard time choosing a theme! Ellen helped us come up with a solution that incorporated both of the designs we loved the most. Her hydrangea paintings are so gorgeous, our wedding guests often send us pictures of blooming hydrangeas as a reminder of our special day.
Ellen and Bob made sure that every detail was perfect. We love each piece of our invitation suite and day-of paper goods. We are so glad that we had the opportunity to work together, and look forward to more opportunities to work together again in the future. Thank you, Ellen and Bob!
-Libby and Jamie
I so enjoyed working with Libby on her invitations as our first wedding item, then on the wedding day paper goods!  Many people don't realize that you can order invitations directly from our website. This is one of the features that we like the best! I love working directly with our brides, but often our clients can find something from our invitations collection that is all ready to go.  This was the case for Libby and Jamie! We still had lots of back and forth communication over proofs and all the fun details that are part of creating the invitations.  They selected the addition of the envelope liner, which is such a great choice!  It's like a surprise when your guests open the envelope.  Of course the envelope flap had a printed hydrangea on it as well, as a special detail.
Our Classic Hydrangea is one of my favorite designs. I love painting hydrangeas!  When El's Cards first started back in 1999, this was one of the best selling designs that was painted one by one by hand on our wedding invitations.  The classic hydrangea is consistently a winner!  For the wedding day items, Libby decided to mix it up a bit and pull in another hydrangea design from our floral collection-Martha's Vineyard Hydrangea.
We used this hydrangea and blueberry design on escort cards to direct the guests to their seat, ceremony programs, favor tags for the guest favors, and table numbers. The colors of those cards paired with the floral arrangements were stunning!  I loved Libby's choices for the table tops.  The coral pop of color with her hydrangeas was stunning!
Adding a personal touch to the signature drink sign is always a fun detail. Libby and Jamie's drink sign had a blue watercolor wash in the background, and was illustrated with a grapefruit slice and cranberries.  Libby's mom, Mary, also ordered some thank you notes to be sent to Libby and Jamie after the wedding-in their signature hydrangea design of course!
And here is the latest! Libby and Jamie just celebrated their one year wedding anniversary. About a month ago, I heard from Libby with a special request. She wanted to present Jamie with a framed version of a beautiful poem that was read during their wedding ceremony.  We used the artwork from the wedding around the perimeter of the poem, and put it in a beautiful barn wood frame.  I love hearing from our couples after the wedding festivities have ended.  
Thank you so much, Libby for asking us to be a part of your special wedding day-and beyond too!  We hope you and Jamie have many years of happiness together and I look forward to staying in touch in the future.
We love the wedding day shots we received from Julia Jane Studios! Thank you for sharing the beauty.