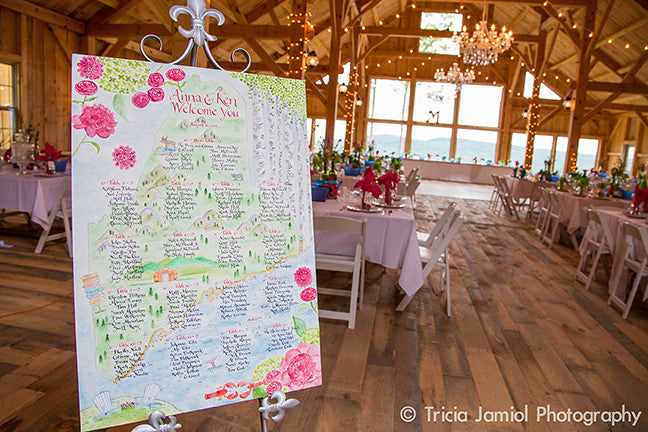 We met Anna and Ken at a bridal show in Portland, Maine. Coincidentally, I had just met Jill Fratianne of Granite Ridge Estate and Barn in Norway, Maine-where Anna and Ken would soon book their summer wedding.  We hit it off immediately, and I was so happy that I heard from them right away to get started on their wedding paper goods.
First, we did the Jar of Blossoms Save the Dates. Keeping the barn wedding theme-with a view of Mt. Washington-I created a custom design just for them. We used pink ribbon for a pop of color around the tri-fold invitation. Ken loves birch trees so we were include those on the the reply card and the outer envelope. I addressed the envelopes in two colors of ink. We assembled them and put them in the mail!
Sticking with the Maine theme, Anna chose lobsters and moose artwork for their favor tags. They had programs and table numbers with their Adirondack chairs and flower design. My favorite part was (of course) the seating chart! It had the outline of the state of Maine in the background and was accented with the wedding flowers, birch trees, and all the other wedding design elements. The photo of the seating chart in the barn is my favorite!
It was truly my pleasure working with this bride on her wedding from start to finish!  I wish you both all the happiness in the world together.
"I met El at a Portland Maine wedding show and am so thankful I did. Her work was unlike anything I've seen before - and that's what drew me to her. She happens to be located just minutes from my work so it was super convenient to meet up with her to go over design ideas. All of the items she provided were so much more than I could ever have dreamed, and the guests of my wedding thought the exact same thing. I can't wait to use her services for a house warming and baby paraphernalia. I just want to share with the world how great she is!!! I feel like I found a new friend in this whole process :)"
Stunning Wedding day photos are by Tricia Jamiol.