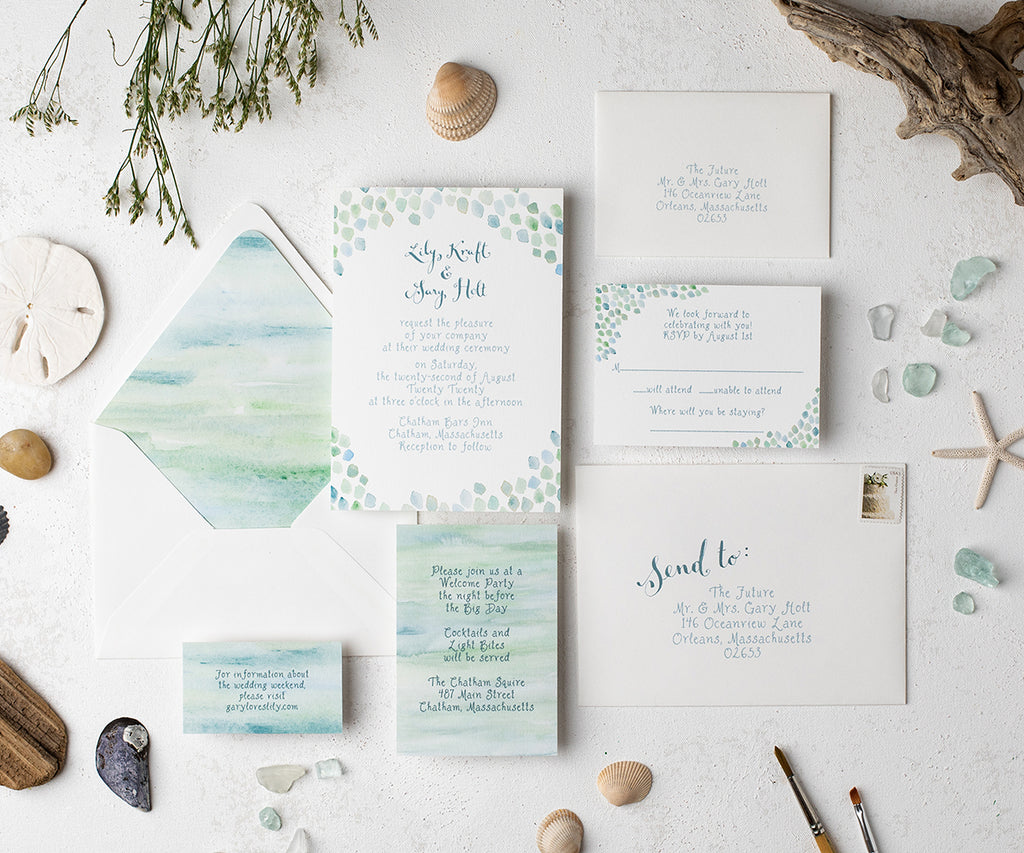 This invitation was created especially for one of our 2020 brides!  She said she was using sea glass colors, and it sparked an idea in El's head!  Sea glass colors are so soft and pretty and would make a perfect wedding suite!

The invitation and reply card have paint dabs in the colors of sea glass randomly placed at the top and bottom sides and corners.  The enclosure card and details card (if selected) have a beautiful watercolor wash all in the same color palette.  If choosing the envelope liner as an "add on"-and we hope you do- it also has that soft and beautiful sea glass wash.
The envelopes are something special too.  We are using a European flap for this suite's envelope choice, so you can see more of the stunning liner.  On the envelope flap on the back, you will find your return address, and on the front "Send to" printed in calligraphy. You can certainly address these yourself, or have us digitally address them for you. 
The font used for the body of text is Carie style in a lovely shade of blue-green.  The names are written in Jennifer style and the digital guest address on the envelope is also Carie style.  Hand calligraphy is also available if you prefer that!  Just be sure to email us to confirm availability for hand written before ordering.
Invitation
5″ x 7" Card
110# High Quality Cover Stock
Matching outer envelope with return address printed on the flap
Reply card measuring approximately 3.5" x 4.8"
Reply envelope with your address printed on the front
Printed in New Hampshire
Add-ons
Calligraphy Addressing-by hand or digitally in one of our fonts
Extra envelopes
Envelope liner
Enclosure card
Details card
Final Steps
After completing your purchase, we will contact you via email within 48 hours. At that time, we will send choices for invitation wording for your special invitations.
PLEASE NOTE:
Shipping for wedding invitations and postage will be billed separately from this purchase. Our free shipping over $XX does not apply to our wedding invitations, because this item needs to be specially insured. If we are assembling and mailing for you, postage will be calculated and charged separately as well.
If you have ordered
hand-lettered calligraphy
or
guest addresses in one of El's digital fonts
on the envelope, we will notify you of how to send us your guest addresses, as well as, determine with you the proper mailing date for your invitations.
We will then email your initial digital proof 3-5 business days from when we receive your text information. Please email any edits you need, or approve the original proof.
Please check all spelling, grammar and punctuation. After your final approval, El's Cards cannot be responsible for these types of errors once the printing process has begun.
After your final approval has been received, production will begin and invitations can be expected to be shipped in 7-10 business days. Ordering add-ons and accessories may increase this timeline.
Most everyone loves the automation of online ordering, but we also think the
personal experience
is vital for your special day's details! We are here to help, so please
email us
with any questions about this process.
We look forward to working with you! El's Cards is a design studio. If you like elements of this design, and would like to have El create a custom version, please Email El at ellen@elscards.com.