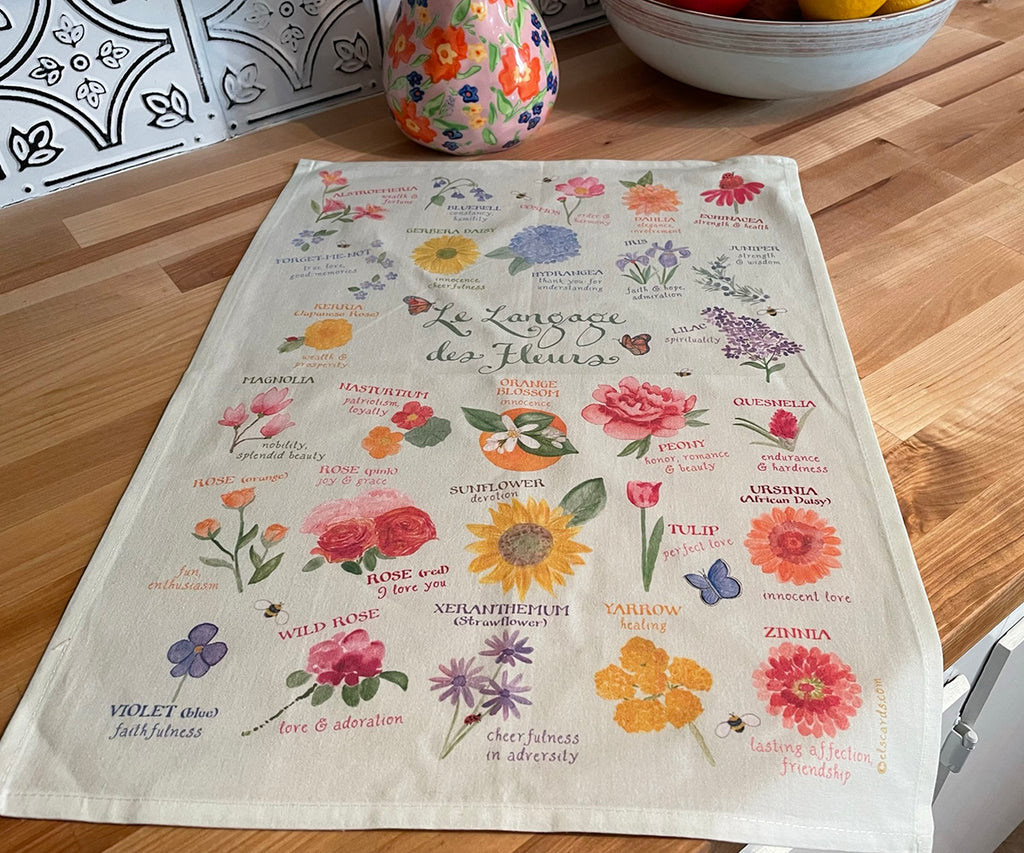 Floriography is the "language of flowers". In Victorian times, these coded meanings were used to symbolize feelings through the flowers that people sent or used for certain occasions.   To this day, people still use flowers to express their sentiments. 
After reading a fiction book (The Language of Flowers by Vanessa Diffenbaugh) on this subject 6 years ago, El became obsessed with this concept!  She has been doing research on the meaning of flowers ever since then.  
On this sweet full color towel, you will find a wonderful assortment of flowers (from A-Z) painted in watercolor and their symbolism.  Please keep in mind that in the modern day, flowers sometimes have several different meanings-these are simply some of El's favorites.  All flowers were hand painted in the El's Cards studio, and the design has a soft green background.
El's love of floral painting makes this the perfect subject matter for a number of fun products, including note cards, a large print, and (especially) this one-a beautiful full color cotton tea towel.
Don't miss our fun blog post highlighting all the different uses for a tea towel!  This is a full color design, but it may be too pretty for drying your dishes!  
• Fabric is 100% lightweight (fast drying) cotton.  The design is printed direct to fabric and will not peel off with use. Handy loop for hanging.
• Machine wash in cold water, delicate cycle, no bleach. Line dry or pop right in the dryer.  **Because they are cotton, they may shrink a little if dried in the dryer.  
• Towel size is 15" x 20" with a full color design. Towel sizes may vary a small amount because they are hand hemmed.
• Designed in New Hampshire-printed in the U.S.A.