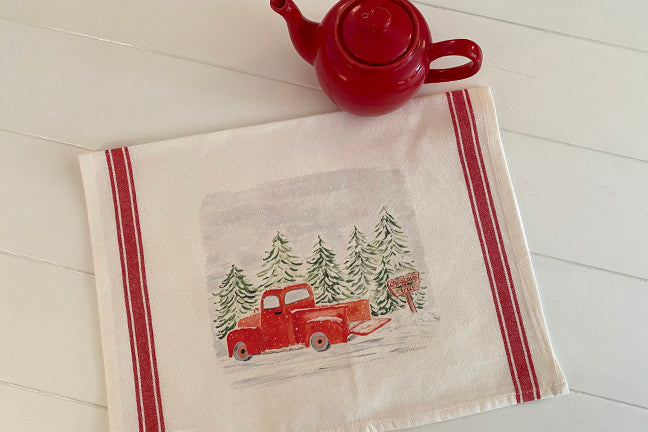 We are so excited to have rolled out our new collection of Tea Towels this fall.  It's something I have been wanting to do for many years, but we just didn't have the best vendor for printing.  We are happy to report that we finally have found one that we like, and are thrilled with the results of these beautiful towels. 
When I mentioned to Bob that I would be doing this post about the many uses for a tea towel, he didn't know what I was talking about!
"Aren't they for drying dishes?"  
I'm glad he asked! There are so many uses for a tea towel. I'm sure there are more, but these were the ones that came to mind and from my experience.
1. Wrap a gift (food or otherwise)-This is great for a bridal shower, birthday, holidays...anytime really. I picture a cookbook wrapped with a wooden spoon or a cute utensil tied on the top.  The tea towel is also a wonderful stand alone gift.  Something unique for the home is always appreciated.
2. Line a basket to keep bread warm-this is my favorite!  Fresh bread in a tea towel lined basket isn't just for company. We do this whenever bread is on the menu.
3. Use one as a guest bathroom towel-or if you don't have a guest bathroom specifically (like us), put one out as a seasonal decoration or when guests are visiting.
4. Put clean dishes on it to dry-so much prettier than a drying rack!  My friend Angelique used to do this when we shared an apartment together many moons ago, so this idea reminds me of her.
5. Line a serving tray to catch drips-pretty and practical.  One of the original uses for a tea towel when it was invented in the 18th century.
6. Cover rising bread dough-My mum used to do this all the time (and she still does...using one of our towels!)
7. Use it as a trivet or a potholder-another practical use.  You can prevent burns when taking the top off a cooking pot, or block the heat from a dish coming through onto your table.
8. Cover food outdoors at a picnic-with all the outdoor dining we did this summer, we used this one often.  Keeps the insects out of the salad!
9. Use as a placemat or cloth napkin-decorate your table in a special way.
10. Be practical and dry your dishes!-no more to be said about this! This one is Bob's favorite! But he knows which towels are "special-the ones we save for when the queen visits"-haha or the ones for "everyday".
Thank you for reading.  We hope you found this helpful!  Take a peek at our Tea Towel collection!

xoxo
El