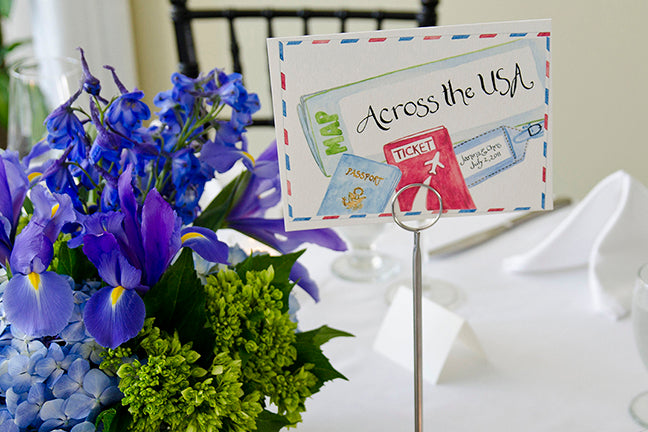 It's your wedding day! So much planning and preparation has gone into this special event.  Why not have some fun with your guest seating assignments?  I love it when couples name their tables in a creative way.  Take a peek at some of our favorites below.
Leah Grace and Scott are foodies and chose to name their tables after their favorite restaurants!  This fun couple also had us create a special, hand painted seating chart for their reception.  The hand painted designs from the custom shower invitation and seating chart were carried over to create a fun mixed selection of artwork on their table signs.
The idea for this blog post came from one of our 2016 weddings...Kayla and Schuyler on Cape Cod in June. Their tables were named after Grateful Dead songs!  Loved this!!
Thank you Todd Danforth for these beautiful wedding day photos!
Favorite places is one of the most popular choices. We have done this type of a table sign in so many different ways.  These post cards were done for Melissa and John for their Florida wedding. Each table sign has a different design...all custom artwork made these table names something special.
Thank you Brea MacDonald for this image from Gracie & Tim's wedding.  They chose to name their tables for places that were meaningful to them
Thank you Melissa Mullen Photography for this lovely shot from Ria & Ross' Wedding!
Thank you Brea McDonald Photography for this great table shot of Sarah and Brendan's wedding.
Caitlyn and Andrew love to ski so it only made sense that their tables were named after trails at their wedding venue-Mount Sunapee!  It's also worth mentioning that they had a seating chart with a hand painted trail map of the mountain.  LOVED this project and couple!
Wedding day photo on the right by Nathan Moreau.
Flavors of Tea was a fun idea!  Thank you Geneve Hoffman Photography for the beautiful photo!
Abby and Jamie had a colorful autumn wedding...and Jamie's love of snowboarding was the focus of their table names.  All of his favorite mountains were featured.  These went beautifully with their seating chart....flowers for the bride and mountains for the groom!
Among others, we have also done years (for a New Year's Eve wedding)...
Types of trees for Jen and Zach's autumn wedding....Photo by Justine Yandle.
Dog breeds, island names, favorite desserts, and best vacation spots!  Use your imagination...the possibilities are endless.  We would love to help you with all of your wedding day paper goods!  Take a peek at our unique table sign designs.
Save