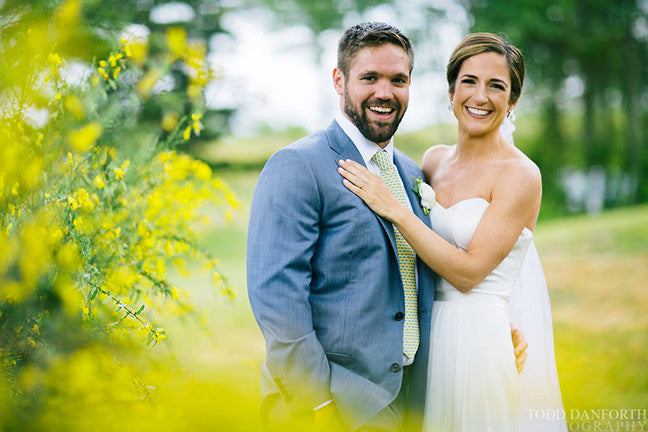 It was a real pleasure working with this couple on their wedding stationery. It was exactly a year from today that I first heard from Kayla! This lovely bride was referred to me by one of my craft show clients who we had met in Ogunquit, Maine a couple of years ago! I love when the different parts of our business overlap like that. Kayla and I had a great conversation and worked out a few ideas for her invitations. The rest of the process went very smoothly.
Kayla selected the Buoys wedding invitation-with red and blue buoys and a lobster watermarked on the enclosure card and reply card.  The envelope featured a lighthouse and Caitlin style calligraphy in navy blue.
The couple purchased one of our maps of Cape Cod to use as a sign in board for their guests.  I added their name, wedding date, and a couple of special locations to the map for them-including the reception and welcome party locations.
Kayla had asked me to create table signs and escort cards as well.  She told me that they had named their tables for different songs.  I thought this was a cool idea.  Creative table names (don't miss this blog post!) are always fun and add a neat conversation piece to the reception.   Well....she sent me the list and I loved it!!  All of the tables were named after different Grateful Dead songs!  FUN!  So, they selected a starfish watermarked behind the table names and an anchor for the escort card artwork.  This wedding is a great example of mixing and matching design elements from different wedding suite collections!
Thank you so much, Kayla and Schuyler for allowing El's Cards to be part of your day!!  I love seeing the beautiful photos by Todd Danforth of your wedding day!  You both look so incredibly happy and relaxed!  Wishing you a lifetime of  happiness together!
Thank you, Todd Danforth Photography, for allowing us to share your beautiful photos in this Real Wedding feature!