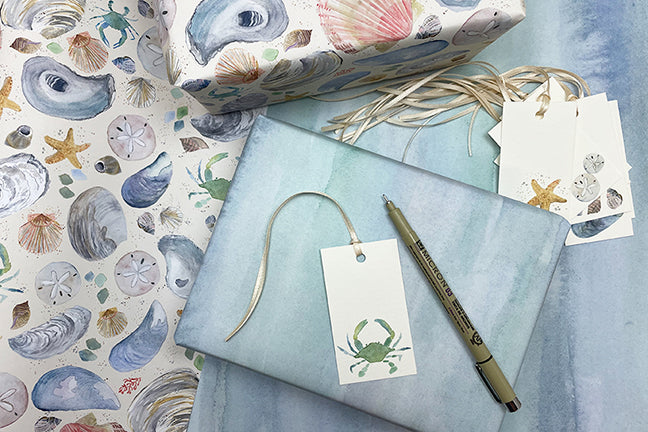 Happy Spring and "almost" Summer to all!  The past month has been really great here in the El's Cards studio.  I have been hard at work with paintbrush in hand working on new designs to launch just in time for Mother's Day.  Anyone who knows me knows that I don't like to start talking about the next holiday (Mother's Day) until the current holiday has passed (Easter).  Sooo…we introduced our new spring line last Monday but as I wanted to add a few more cards, this is our official roll out day!  Mother's Day seems to fall earlier than usual this year-Sunday, May 8th-just under 2 weeks from today!
My favorite thing that has been long in the development stage is our Language of Flowers line of items-available as a full color, lightweight tea towel, note cards, and as a 16" x 20" print.  If you haven't seen my little blurb on the product pages yet, the Language of Flowers originated in France in Victorian times.  Each flower has a meaning, and instead of verbal communication, it was common for flowers to be sent to convey emotions to others.  One of the more well known flowers is the red rose meaning "I love you", but there are so many others.  The research to develop this project was simply fascinating. 
Both the tea towel and the note cards have flowers from A-Z and their meanings. We have the print hanging in our beautifully re-done kitchen (more to come on that in another blog post).  I did so much research and found so many different meanings  that I will be adding more and more flowers as time goes on.  We are getting a great response on the towels and the notes-particularly the mix and match notes.  So many layers to this project-it has been in the making for many years, and it is so fun to finally bring it to fruition.
These items are fun paired together!  You can really get creative tailoring a custom box of notes for someone special.  Don't miss all the new floral design styles in our Mother's Day cards selection.  Try either the towel or some notes paired with our Blooming Flowers notepad. And maybe some floral stickers?!
Speaking of notepads…..let me jump over there for a minute!  We have 3 new designs for spring.  These two were a little late to the party because they came in at the end of last week…but they are not to be missed.  You had me at "meow" with the NEW cats pad. (And 2 new boxes of Cat Notes)  And we have a NEW "Things to due before I'm due" for the mom-to-be!  I'm sure there are many lists to make on that one.  These are a cute gift for your favorite cat mom or expectant mom-don't forget the card.
The last notepad to mention is getting a great response-Mini Citrus and Florals. It is a sweet gift when paired with our new Fresh Citrus and Florals Tea Towel and our Fresh Citrus gift tags. Another lightweight cotton full color towel. It is slightly smaller in size than our other full color towels, and we are getting positive feedback on the size and the quality!
Let's roll into the other towel options. The next two both pair well with our mini Maine notepad and either the Pint of Blueberries notes or the Lobsters notes.  How to Eat a Lobster and Maine Blueberry Muffin recipe towel.  I'm happy to report that we also have the How to Eat a Lobster design also available as cards to be used for your party or event. We have had so many requests for these for weddings and it was time.  
Of course Kitchen herbs is the classic white flour sack towel that everyone loves! It's a little heavier cotton and great for so many different uses. Don't miss the post on 10 Uses of a Tea Towel.  We also enclose a little card in each tea towel package listing those uses.
NOW….drumroll please!  If you have been noticing the background on many of our new product images, you may be wondering about the watercolor wash!  This is side 2 of two new styles of more gorgeous double sided gift wrap. The holiday wrap was a huge hit so we are excited to present Abundant Blossoms and Beach Treasures Gift Wrap.
So many fun new design combinations and of course our pre-Mother's Day special.  If you make a purchase over $50, just add a notepad to your cart and it will be FREE. This special will run though the end of this week (until May 1st, 2022). 
And if you are running late or just can't make up your mind, we just added an e-gift card option with many denominations available. 
Don't forget our front porch pickup option for our local friends. Bob turns these orders around quickly every time.
So, yes! We have been busy here!  There are so many more new things in the works too. This spring I feel lucky to have been able to spend so much time painting and working on our retail items for the website and for all our upcoming craft shows.  We are always so wedding focused in the spring and have a busy wedding year on the calendar for sure.  But we have so many great customers who love our cards and other "art for everyday" year-round. I wanted to spend more time creating new designs for shows and all our wonderful customers who shop the website.
Thank you for your support.
xoxo
El