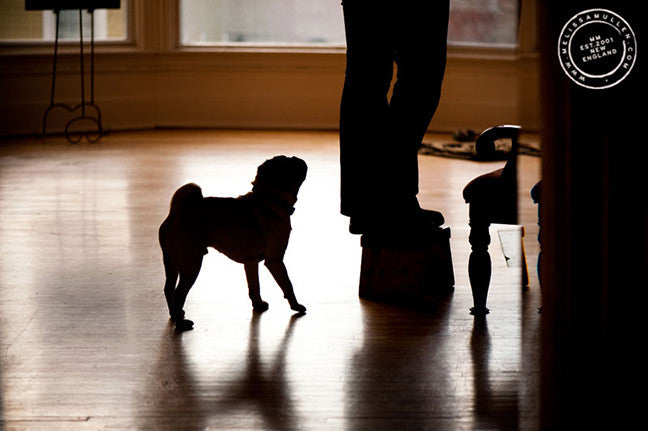 Melissa Mullen of Melissa Mullen Photography is in my vendor (friendor) spotlight today!  This super talented Maine wedding and portrait photographer was brought to my attention after one of my 2011 couples sent me a few photos from their Cape Elizabeth, Maine wedding.  Her style so perfectly captured their day.  I reached out to Melissa and we made plans to have coffee together. Little did I then know that I would be introduced to someone who would become such a good friend and colleague!
Melissa has been in business as a photographer for 16 years now.  After getting started on the west coast, we are now so lucky to have her in New England.  Melissa has photographed weddings and portraits all over the country. She has shared her gift teaching classes at the Hallmark Institute of Photography in Massachusetts for many years.  
This gifted photographer has also been very involved with photographing rescue dogs who need a home.  Melissa is so generous with her time and talent.  She is an animal lover and has a sweet pug, named Leo (shown in our cover shot).  She got some beautiful photos of our feline friends, Spike and Annabelle, the last time she was here at the studio.
Melissa does beautiful family portraits too.  A recent family portrait of the sweetest family was just chosen as holiday photo 2016 of the year at Minted.

It has been my good fortune to work with Melissa many times since we met six years ago!  We have had a few weddings together- (see Ria & Ross and Jessica & Matthew in our Real Weddings gallery pages), and did a beautiful styled shoot called Into the Woods.  Every year, Melissa photographs what is new in our invitations and cards collections.  This year we have a couple of fun things planned for some new products and I know Melissa will do an incredible job bringing them to life! 
Not only does Melissa shoot weddings, but she does wonderful head shot photos!  She did my first head shots a few years ago when we were doing one of our annual shoots together.  Melissa made me feel so comfortable and relaxed.  She truly has a special gift.  You will love working with this professional, and did I mention talented, (I know I did!!) woman!

I feel so lucky to know this amazing woman professionally and to be able to call her a good friend.  So looking forward to our next project together! All of the gorgeous photos below were taken by Melissa....of course!