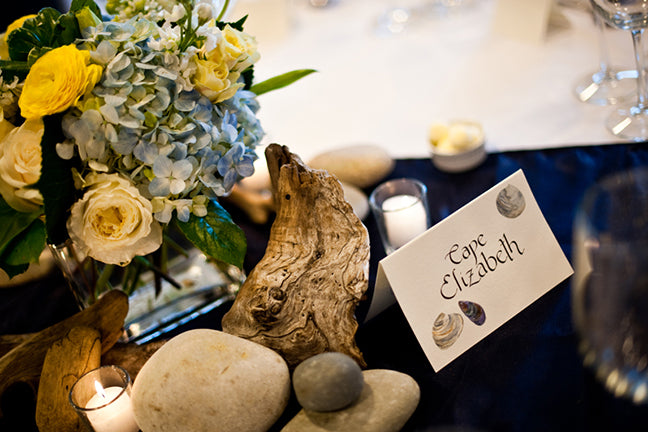 Meeting Ria and Ross and working with them on their wedding stationery was wonderful!  Ria was so open to my ideas...I had been wanted to create a Maine map wedding invitation and they both loved that suggestion. We tied in their wedding colors of blue and yellow and I added mountains to the state of Maine because hiking is a favorite activity.
My favorite part (of course) was the custom, hand painted seating chart!  We did a chart focused on southern Maine and Casco Bay...with tables named for places that are special to the couple.
For the reception,the couple selected place cards with foods designated by the picture on the card....hill for vegetarian, lighthouse for beef, etc.  The table signs had the shells from their replies card as the artwork.
Now the couple has a sweet new baby!  I love hearing what is new and seeing that Ria and Ross are both doing well!   This was our first gallery created in our former website...so it's really special to me!  And this is the wedding that brought me together with my good friend, Melissa Mullen! 
Gorgeous wedding day photos are by the talented Melissa Mullen.