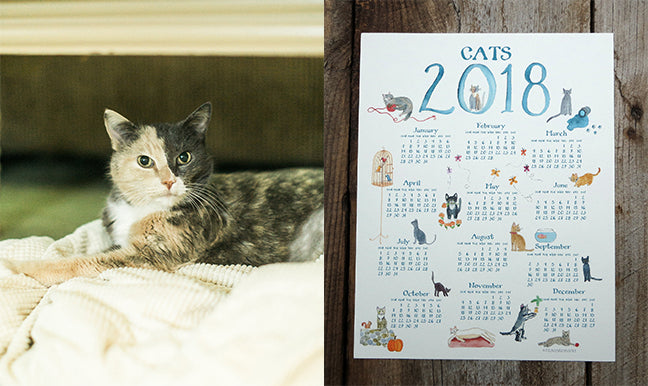 When I started working at Jet Blue in 2006, Bob and I decided to get a couple of kittens.  We thought it would be good company for Bob when I was gone on trips...and good company for me when I was at home working.  Both of us being cat lovers, it was just a matter of timing and when the right babies would appear!
My good friend, Abby, emailed me photos of 2 little kittens looking for a home. They were rescued in the city of Boston.  We saw a photo of our sweet Annabelle, and that was it!  It was love at first sight for both me and Bob.  We went and picked up Annabelle and her rough and tumble brother, Spike a few weeks later.
We set up my office for the two kittens with a kitty condo and a piece of cardboard blocking the door on their first night.  We didn't want to overwhelm them with the huge expanse of our ranch style home.  The office is across the hall from our bedroom, and not long after saying "goodnight" to them, we were lying in bed, listening to their squeaky little mews.  Bob looked at me and said, "What have we done?"  Needless to say, that was the last night they spent relegated to my office.
Having cats as part of the family has been a true gift for us. Annabelle used to come and sit with me on the couch when Bob would head off to work early in the morning.  I would have the TV on and would drink my coffee with Anna B (one of her nicknames) cuddled up right next to me.   This was our routine for quite a few years.
Whenever I had a trip and would be leaving for a few days, it was like she knew. She would go and sit on top of my roller board so I wasn't able to pack.  She loved to sit in the seat in my studio that is right next to the window.  She would enjoy the outdoor smells when I opened the window.  Annabelle loved hiding in cozy places....like Bob's wardrobe. The minute the door opened, she would hop right up in there.  Or on the paper racks between boxes of paper.
She loved the stove most of all.  We have so many photos of Annabelle stretched out warming herself from the heat of the stove.  She loved to get up and sleep on the brick...the hotter it was, the better.  Every afternoon, Annabelle would come around and meow for her 2:30 treat break.  She loved Christmas...she would sit under the tree. Another one of her cozy places. When she was a kitten, she would go after the ornaments, so we would find them under couches for months long after the tree was gone.
She liked wrapping herself up in anything snuggly too....like the Christmas tree skirt. She also had 2 favorite blankets that she loved the best.  She would come and sit with me if I happened to have her favorite blanket on my legs, watching TV.
I would rather think about the happy memories with our beautiful girl. Letting her go at the end was very hard.  But we know it was the right thing to do.  She couldn't even keep food down and I had to feed her watered down baby food for the last week she was with us. 
The day before we took her to say Goodbye, our dear friend Rachel Halsey came over and captured some beautiful photos of our girl.   Annabelle knew Rachel because she is also our cat sitter when we are away doing a show.  She was totally comfortable and posed for her friend Rachel. 
Thank you so much to my good friend, Melissa, who sent us a beautiful photo of Annabelle for us to frame and put up in our living room.  That was really Annabelle's room. She owned that stove!  We had the perfect frame to use and I see her every day in her spot of honor.
We miss our beautiful calico Annabelle every day.  When a person works at home, having a pet is such good company. Annabelle was so special to us.  She was so well loved and had a great life . Thank you Annabelle for being the sweetest cat and for being a part of our lives. Everyone who met her loved her!
We thought it would be a great way to honor our girl by creating a cats calendar this year.  She is seated in a place of honor in the 0 of 2018.  And if there are cats...we must also have dogs for the dog people!  We have a new dogs calendar also this year.....with many breeds represented!
Thank you so much to Rachel Halsey and Melissa Mullen for the beautiful professional photos of Annabelle.  All of the basic and phone style photos were taken by me....no frills but we wanted all phases of our girl's life represented.
Save
Save