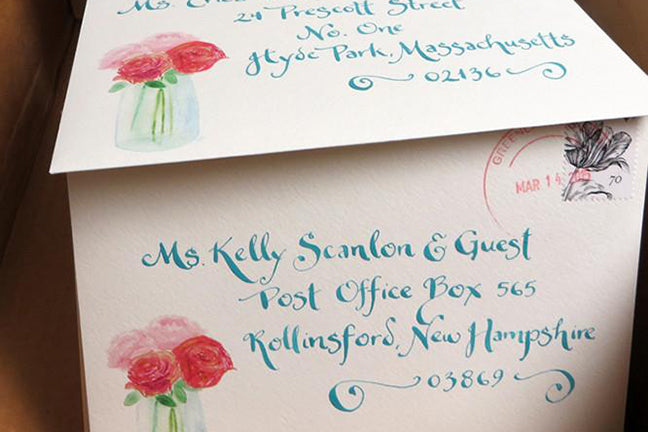 It's time! You have purchased your wedding invitations and it's time to put them together and send them out to your guests!  This can be a bit of a project, but we are here to help you.  These are five key tips for making the process easier.
1.  Address your invitation envelopes in advance-Having your envelopes all ready to go will make this project go much more smoothly. Create an organized list so that when you sit down to address the envelopes you aren't looking for this zip code or that last name of cousin Mike's girlfriend. We suggest using Word for creating your invitation guest list.  It's easy to read, and the addresses will look as they will when written on the envelopes.  It's the best way to have good spacing.
Above all, address your guest envelopes by hand. If you don't have neat handwriting, hire a calligrapher, or enlist an enthusiastic family member (or two) who have good handwriting skills.  If you choose to hire a calligrapher, the process can take extra time depending on how busy they are.  So if this is the route you select for addressing envelopes, be sure you book someone in advance. 
2.  Weigh a complete invitation suite before purchasing your postage-This is crucial!  Put together one suite and bring it to the post office. It may be oversized (larger envelope), bulky (tied with ribbon or belly band), or heavy (many extra pieces), so you want to be sure you have correct postage.  If you have a postal scale at home, that works too. But just for peace of mind, I suggest having it weighed at your local post office.  You will be going there to purchase stamps anyway! 
3. Give yourself ample time to assemble-Easy, right?!  Enlist your bridesmaids and your mom and you are all set!  Maybe....but I can tell you that to assemble your invitations correctly will take some time. 
When you are putting the invitations together, I have heard two schools of thought on the order of pieces.  Many will advise you to stack your pieces like a wedding cake, largest to smallest.  The other way is the way we do it, from most important piece on the bottom, to the least important piece on the top. So you start with invitation, then put the reply card and envelope on top of that, then any enclosure cards on top of that. That way, the invitation ("star of the show") is on the bottom and the last thing people see. 
4.  Number your guest list and reply cards-This is a practical suggestion. Even if you only use the numbered list once, it is worth the trouble. You may have a guest who forgets to put their name on the reply card but enthusiastically replies-Yes!  We'd love to come!  This way, you can check the number and figure out who the attendee is simply by finding the corresponding number on the guest list.  When assembling, Bob writes a small number in pencil on the back corner of the reply card.
5.  Mail your invitations 6-8 weeks prior to the wedding-I have read other suggestions for destination weddings or wedding during the holidays.  Just be mindful of your guest list.  If you have many guests coming from out of town who need to book airline travel, you will want to send them out more on the 8 week end.  Or if you are in a high tourist area and are nervous about people securing accommodations, you may send them a bit earlier than that.  We had a destination Key West wedding this year, and we sent those invitations out 3 months prior to the big day.
Sometimes, the post office will hand cancel your invitation envelopes. This is an extra special touch. It's always worth asking in advance if this is possible.  Just be sure not to be the last person bombing through the door with a big box of invitations at 4:55!  In that case, the answer is likely to be a resounding "no"!
One of our most popular services goes along with invitation and calligraphy purchase.  I address them by hand in calligraphy style of your choice, and Bob assembles your wedding invitations and mails them out for you!  It takes this project off your hands, and allows you to sit back and wait for the replies to come in. You just hand off your guest list, and we do the rest!  Interested in learning more?  Get in touch!  We can't wait to work with you to simplify this process!
Want some more fun tips on invitation Do's and Don'ts?  Check our this super fun video by Meg Simone Wedding Films!
Save
Save
Save