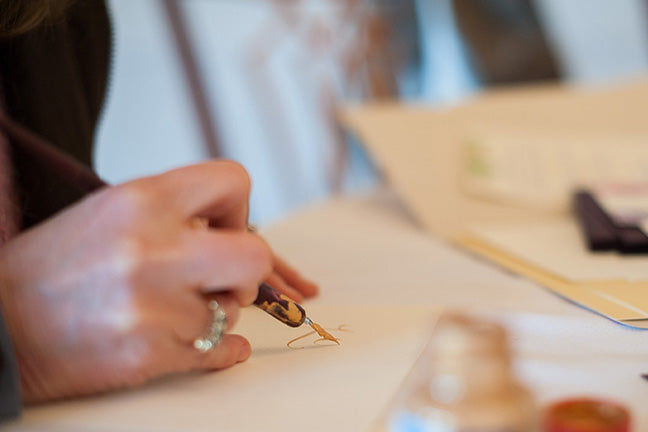 There are a few key dos and dont's to remember when you are getting your wedding stationery together. Here are some important things to bear in mind as you create your guest list and beyond.  We have been doing this for a long time, and the advice below comes from questions our couples have asked us over the years-and from personal experience. And admittedly, I am a bit of a stickler for etiquette.  If you just want to enjoy the finer points...skip to the video at the bottom of the page!
First the Dos.....
Do--Order extra envelopes, in case of errors, additions, or changes of address.  If you are hiring a calligrapher, they will require extras. Even a professional will need a buffer in case of stray drops of ink, etc.  We suggest 20% above your number of addresses when ordering.
Do--Get a correct weight of your invitation before you purchase your postage. Remember that extra inserts will make your invitation heavier, and fun square envelopes are more expensive to mail too.
Do--Give yourself plenty of time to address and assemble your invitations.  It's not something you do every day. (As a side note, we do offer a complimentary assembly service here at El's Cards if you are ordering invitations and calligraphy services from us).
Do--number your guest list and then the corresponding reply cards in the event that one of your guests forgets to put their name on the reply.  Bob writes the number small in pencil on the back of each reply card. Even if you only use this list once, it's worth taking the time!
Do--call in the troops for help.  Invitation assembly can be a fun project to do with your trusted bridesmaids and family!
Do--check your spelling of addresses and especially guest names. This includes titles for  military personnel, doctors and other esteemed titles. When in doubt, ask your calligrapher!
Do--write your thank you notes by hand.  Your guests will truly appreciate this simple gesture.
Do--include a separate card for the reception if the ceremony is in a different location.  The ceremony and reception will be considered two events, so you need to differentiate the two.
Now the Don'ts....
Don't-- use address labels on your wedding invitations.  This bears repeating!  I said it....even if you have hundreds of guests invited, it is never ok to use labels on your wedding invitation envelopes. They should be hand written, or addressed directly on the envelope with digital calligraphy.
Don't--forget to put a stamp on the guest reply envelope.  The only exception to this rule is if the reply card will be coming from another country.  They will need to use their own postage in this case.
Don't--include wedding registry or gift requests of any kind on your wedding invitation. It is considered in poor taste to do so.
Don't--use a "B" list of guests.  Try to invite your entire guest list at once rather than waiting to see if some people are unable to attend before sending out a second round of invitations.  You can safely assume that 10-20% will be unable to attend.
Don't--send invitations too early....or too late!  Wedding invitations should be sent out 6-8 weeks prior to the wedding. (or 3 months if it is a destination wedding).  If you are nervous about people responding in a timely manner, be mindful of that when selecting your reply by date. From what I have experienced, if you give people too much time (by sending too early), people sometimes don't reply promptly because they feel they have plenty of time to "do it later".  If you have sent out a save the date, that is the best way to establish the timeline for your guests to book accommodations early.
As we were assembling this list, we were also planning a fun video series with our talented friend, Meg Simone of Meg Simone Wedding Films.  We put together some of our favorite dos and don'ts and had a blast making this film with Meg!  Putting a fun spin on some sound advice-we know you will enjoy Meg's outstanding work!  Bob hams it up and Spike even has a cameo!  Thanks so much Meg for an incredible job!