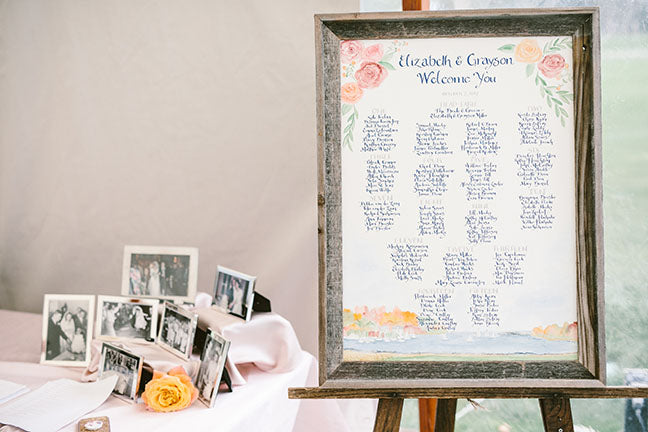 Last year, I was having a conversation with someone about a seating chart I was about to create for one of my couples. The person said that they hadn't assigned tables to the guests at their reception... she and her husband had just "let the guests sit where they wanted" -because it was so much easier. Gulp. I really had to bite my tongue when I heard that comment. Easier for her...I am sure it was... but NOT for her honored guests! She stated that is wasn't a formal affair and it "just wasn't them" to tell people where to sit.
Seating assignments are not only a good idea for a more formal affair.  As any good party host knows, it is important that your guests feel included and special and a wedding reception is not just any kind of party! You don't want your guests randomly hunting around for an available seat. You will have all different types of people at your wedding, and many of them may not have ever met. It is important to keep this in mind when you do your seating assignments.
Also, it is important to be mindful of your guests needs and use common sense when doing the seating arrangements. For example, you may not want to seat your elderly guests right next to the band or speakers. Try seating people who know each other together (college friends, the people who live on your parents' street, or friends from work). And if you have a few wild card guests who don't really know anyone there, try to seat them near guests with whom they share things in common.
Many couples like the recent trend of having a sweetheart table at the reception instead of a head table for all of the bridal party. You may or may not want to do this, depending on your own families and whether or not your bridal party have families of their own who are attending the wedding reception.
After you find out from your venue the number of seats at each table and have your final guest count, you may want to take a large piece of paper or cardboard, and draw your tables as they will be in the room.  Then you can easily use sticky notes to move people around to different seats as you are figuring out the seating.
When you hire someone to create a seating chart or escort cards for your wedding day, you will need to give them some time to do this. When you order your wedding invitations, be sure you ask for your replies to be returned approximately two to four weeks prior to the wedding day.  That will give you enough time to do your seating plan for your guests and get the information to the person who is creating the seating chart. When working with couples, I always ask that the seating information is given to me  two weeks prior to the wedding to allow me a solid week and a half to create the artwork. Then we still have time to ship or be picked up a few days before the wedding.
Each seating chart is a real work of art when it is done.  They are beautiful and practical.  Escort cards are nice too...but these pieces are something really special...and they won't blow away or be lost at the end of the day (they average 27" tall x 20" wide). They honor your guests-and it is a beautiful and unique memento that you will have for your life together as a couple.  Many people ask what is my very favorite item to create....without hesitation, my answer is the seating chart! Every single one is unique and customized just for the bride and groom.
No matter what method you decide to use to guide your guests to their seats at your wedding....take the time to put some thought into a seating plan!  Everyone will be glad you did.
Photo credits: Brea McDonald Photography, Kivalo Photography, cover photo by Shane Godfrey