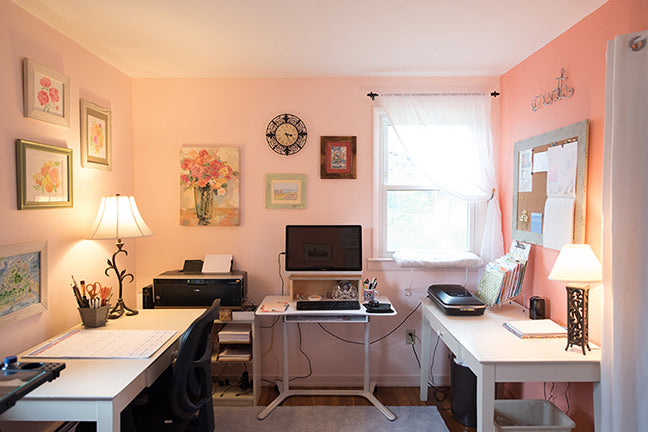 I am so excited to be unveiling my new work space here on the blog!  There is nothing like a color change and full space refresh to change the outlook on an office space.  I LOVE before and afters...so here goes!
We had originally planned to go away for our eighth wedding anniversary-as we do every year. But due to a couple of unexpected circumstances, those plans changed.  We did decide that even though we would be in town, we would still take the week off. Well.....sort of!  Bob has been working hard all this year painting our other rooms...living room, kitchen, hallway, my dressing room. We had put my office on the back burner because of our busiest April ever!
Studio-"before"
So when thinking about the week off, I asked Bob if he would help me paint my studio space, and he agreed that the timing was right.  After displaying paint swatches on my wall since January, I finally made a decision!  It would be coral on two walls, and pale pink on two walls.  We (I say that as though I had anything to do with this amazing transformation)....bought the paint, and got started. Bob worked tirelessly and the result is a huge turnaround-it feels like a completely new room!  While Bob was painting upstairs, I was downstairs painting my desks cream, just to brighten up the area even more.
"Bob in the Studio-during...."
The finished product is so beautiful and comfortable!  I love working in my office....my head is clear and I'm surrounded with fabulous colors and brightness all day.  Did I mention that the color orange fosters creativity?!  The shade of coral is just the right mix of orange and pink....I LOVE it!
My friend Melissa was over last Monday, right after we had rolled out the new rug and hung up some artwork.  She took some awesome photos of my new space which I am so excited to show you!
The view above is one of my favorites....all of the artwork is meaningful to me in some way.  There is a card that Bob got me for an anniversary that I framed a few years ago.  He got me the clock another year for Christmas.  We went to Martha's Vineyard last year for our anniversary trip, so that is a special place to us...hence the map on the wall.  I am obsessed with flowers so have 3 original new floral paintings that I did recently for our prints collection hanging in a vignette  above one of my work desks.
I went with fresh clean white curtains so it would be nice and bright all the time!  The glass topped desk here on the left is my calligraphy desk where I can choose to sit or stand.  Bob put in a huge light underneath that shines up so I can keep my calligraphy lines nice and straight when addressing my envelopes.  Thanks Melissa for the cute flowers on my desk!  That huge calendar on the cream desk keeps me organized. When I finish a big job, I highlight it, then at the end of the month, the whole calendar is bright yellow with finished jobs. Maybe it's a little old school, but it works for me :).
Of course we had to reinstall the cat shelf for one of our well loved felines, Spike! This is his spot. He is sitting here as I write this post, standing up at my sit/stand desk.  I love the calendar from Mum with a different cute pig on every page.  "Cute pig" is one of our favorite expressions.  Then we have the waterfall of clients in folders, organized from the wedding that is coming next, to our 2018 clients way in the back!  Again, a little old school, but I am visual, and it keeps me knowing what is coming next.  I keep all notes, samples, artwork, and info about all of my couples very close at hand.  Right next to my planner...again...something in which to write.  I've learned that although I love the technology for some things, I am most organized when I can see it all in front of me. 
Behind the solid white curtain on that coral wall, is my major storage area.  Watercolor and other paper, pen nibs, paints, card stash for personal use, pending and in progress jobs, and the like!  When I moved in here in 2005, Bob built this closet out for me with 4 deep shelves.  Still organizing this in bite size pieces.
In this shot, you can see a bit of the periwinkle rug, and my distressed door!  I was obsessing over what rug to buy, and when I saw this one, it was just right!  Blue and orange are complimentary colors.  The great door is one that Bob "repurposed" from the Greenland Transfer Station (aka: dump).  It is one of several unique doors in our home of similar origin.
This is a better shot of the door! And of 2 of the coral walls.  On the far left, is a little sign my good friend Angelique gave me that says "It's not you, it's them!"   My sister, Laura, gave me the Eat, Sleep, Create, over the door!  How true that is!  (Although some days it feels like Eat, Sleep, Administrative Work....)  My easel hangs on the wall (another Bob creation).  It pulls out to an angle, but folds in close to the wall when not in use.  A special map I created for Bob is being finished on there now.  The painting of the sheep over my easel is my first piece of artwork ever! My Mum bought it for me and had it framed with gift money from my Christening. It's called "Portrait of Lady" and was done by James Wyeth, a Maine artist who I admire.
Then, the shelves! Also painted coral (by me) and built (as all my other fun stuff...) by Bob!  All my calligraphy ink colors are easily accessible there, with my daily use stuff like tape, stapler, embossers, calligraphy pens, etc.  Still working out the decorations, but that birdcage is one of my favorite whimsical items! You might notice "Friends" season 8 DVD collection on the top shelf (great background noise that feels like "company" when doing long calligraphy jobs), along with a couple of recent inspirational business books.  Who says I don't have balance?!   Don't miss the "cute pig" on top of the books from my good friend Rachel, and the fun floral vase!  She knows what I like so well!!
Thank you so much to my wonderful husband and business partner for my beautiful new work space. And thank you to my talented photographer friend, Melissa of Melissa Mullen Photography, for capturing the warmth of my new space in these gorgeous photos!!
xoxoxox
El
Save
Save
Save
Save
Save
Save
Save
Save
Save
Save
Save
Save
Save
Save
Save
Save
Save
Save