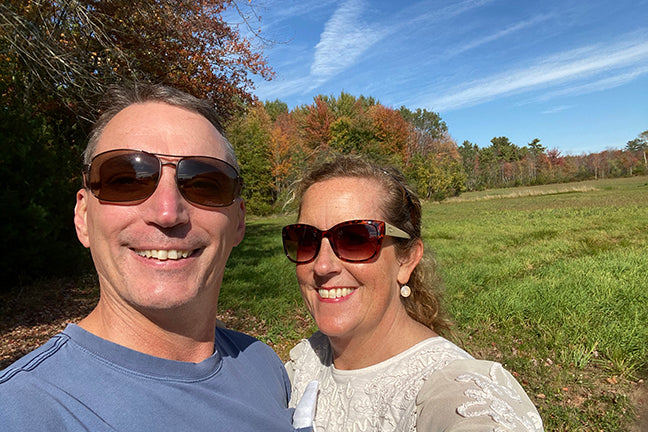 What a year it has been. We were so looking forward to 2020.  The previous year, 2019, was challenging for many reasons. We had some big personal losses and were truly looking forward to a fresh start in 2020.  The year started off great! We had lots of great shows lined up and were excited to be working with all our wedding couples.
We were only a few days away from leaving for Florida for vacation to visit my Mum on March 9th, when Bob got a bad feeling after watching the news, and we called off the trip.  In hindsight, an excellent decision. Since then, we have faced many challenges and there have been many changes and additions to our business and our lives.  
A couple of difficult challenges, one heartbreaking event....but lots of positive things too.  And that is what I want to remember when looking back at the past year.  One of my best friends did a sweet photo montage on Facebook with a photo celebrating every month, so I thought it would be fun to do the same here!  
January- We did a couple of winter craft markets at Wentworth Greenhouse in Rollinsford, NH.  This is a lovely venue and the shows are so well run.  We truly look forward to going back there next winter!  This "Shake for 2" card was one that I created for Valentine's Day last January!  Who knew how true this sentiment would become for 2020?!
February- For years I have wanted to attend the National Stationery Show in New York!  I knew there were great paper purveyors to be found and wanted to investigate some new options for us for sourcing our paper.  2020 was the year we went!  We found a great new supplier (who ended up really saving our season in December when our regular paper supplier put our cards on backorder!).  We also thoroughly enjoyed exploring the city when we weren't at the show.  The weather was unseasonably warm, so it made the visit even better. The show was at the Javits Center, which only one month after our visit, became a field hospital for covid-19 patients.
March- Unsure of what the year would bring, we got comfortable at home. It was just the three of us- Bob, Spike, and me in our little El's Cards bubble.  
April- This month was when we realized we would need to think about pivoting our business. Where we normally would be doing many wedding invitations at this point in the year, we were instead creating postponement announcements. I designed 6 versions, and we offered them as a free download or one to be printed if the couples wished to mail them out.
We got involved with a great virtual craft show put on by my favorite local tea company, 27 Teas.  Our wonderful customers and many new customers came to our website to order cards and gifts for Mother's Day!  We launched many new card designs after noticing card sales really going up.  People wanted to stay in touch with friends and family.
We watched one of our couples-Emily & Billy get married on Zoom. Their beautiful Chicago wedding had been planned up to the last detail, and sadly they had to cancel the big party. But the ceremony was beautiful and we were so happy to be able to see it. Who knew this is how weddings would be happening at any point in time?
May- It seemed as though every day I had an email telling me about one of our couples needing to postpone their wedding, or that one of our craft shows was cancelled.  This was a tough month.  But looking on the bright side, I feel as though I really got to know many of my couples much better through trouble shooting and talking through the changes.  
A few May positives...I learned to cut hair!  Bob was starting to look like a 70's rocker, so I turned my studio into a barber shop for one night and gave my first haircut.   Bob also took an active part in writing several blog posts through the spring, that really added a different perspective to the Simply El blog.
Then with summer in mind, Bob got creative with one of our old craft show tents, outdoor rug, and chairs.  He set up a comfortable space in the back yard which we would use from May-October to have friends come to visit and social distance all summer long.  I got a little wading pool at Target to keep my feet cool when I sat out there reading.  It wasn't Rye Beach, but it worked for us!
June- As the summer started out, we were devastated to lose our loving cat, Spike suddenly.  I love this photo taken of him in my office window in late May.  He truly knew how to relax.  There will be a full post coming in honor of Spike when I am able to write it without breaking down in tears.  We still miss him every day.  He was Bob's bro.  Let's just breeze past June. That was definitely the toughest month of the year.
July- Although my creative mojo seemed to be nonexistent for the first few months of the pandemic, July it really started coming back.  I spent many hours on creative projects including our new calendars for 2021, and designs for launches of some other fun new products.  All the while we worked on improving our website for what we hoped would be a good fourth quarter.
For my June birthday, Bob got me a flower CSA from Fruition Flowers, and those weekly bouquets started coming in July.  Such a bright spot in the week. I looked forward to Jillian's Monday deliveries every week and was never disappointed by her beautiful arrangements. 
We also enjoyed many sunny beach days with a small group of childhood friends in Kennebunk.  We spent a lot of time in the water at my friend Julia's beautiful beach.  This was by far my favorite part of 2020!  Not seeing friends and family has been so challenging this year. I really valued all the time we could spend together.  I enjoyed doing some "errand days" with my Mum in Maine.  We would take the afternoon and do groceries, bank, etc. and visit every couple of weeks or so. Definitely a highlight of the summer.
August- This was an exciting launch!  We rolled out 3 calendar styles-The Sea, 4 Seasons, and Cats!  At the end of the year tally, Bob has reported to me that The Sea & 4 Seasons were our best sellers...although we had hoped Cats would claw the way out of third place ;)  We also ordered calendar frames which were a huge hit!  We always get requests at shows so it was great to be able to offer those this year.
Then after the calendars were completed, I started designing a new product that I had wanted to do for ages-notepads!  This product has done so well,  we decided we will be keeping them on the website and will be adding more designs as the seasons go on.  Teaser...new notepad for wedding couples coming this week!
September- With the warmer months coming to an end soon, we started focusing on the holiday season and what we would be offering. But we need to regroup and relax a little too.  One of our favorite things to do on a day off is go for a drive. One of my favorite days in September was spent on a foliage drive, and visiting my friend Sarah and her husband Nick at Spring Creek Farm.  I took many photos of the animals so I can paint them at some point. Loved the sheep and the horses.
October- Fourth quarter started off with a bang here at El's Cards!  We launched another new product, Tea Towels!  Bob and I are both thrilled at how well they were received.  We sold out of several styles and will be keeping this product in our offerings moving forward also.  We missed our autumn craft shows this year, but are super excited at the wonderful response to our website.  And don't forget the stickers!  Another cute addition for 2020. I'm looking forward to designing more sticker sheets this spring.
November- Holiday season was in full swing here!  We launched many new Christmas card designs, our holiday gift wrap service, and started running some great specials for early Christmas shopping. 
Bob broke out his new woodchipper for a couple of days to get the yard in shape for winter.  Bob does such a great job with the yard.
It was the first year to not be with family for Thanksgiving in many years, but as with so many parts of 2020, we took it as it was and had a great time together with two close friends who have also been in strict quarantine. 
December- We wrapped up all our holiday orders and welcomed two sweet new kittens into the house. They have truly been a joy and bright spot this year!  As I write this, Marty is sleeping on my lap, and Sunny is sitting on the window seat next to my work station.  Now it's 3 boys and 1 girl around here...looks like the Patriots will be winning out viewing time over Downton Abbey ;)  That's OK with me though.  We know these guys could never take the place of Spike. But there is plenty of love to go around and we are delighted to welcome them home. 
More love! That is what we see coming in 2021.  Bob and I are really looking forward to introducing even more new designs and items in the year to come.  We are cautiously optimistic about doing some outdoor craft shows, and are hopeful for all of our wedding couples who had to postpone the celebrations to 2021. 
We were happy to be able to create invitations and wedding day paper goods for several smaller weddings in 2020 and are appreciative to all of you who placed orders with us this year.  Thanks to you, our small business is thriving, and we are hopeful for the future.
Thank you so much for all your love, support, and kindness in 2020.  
Here's to a great 2021!
Love,
El and Bob