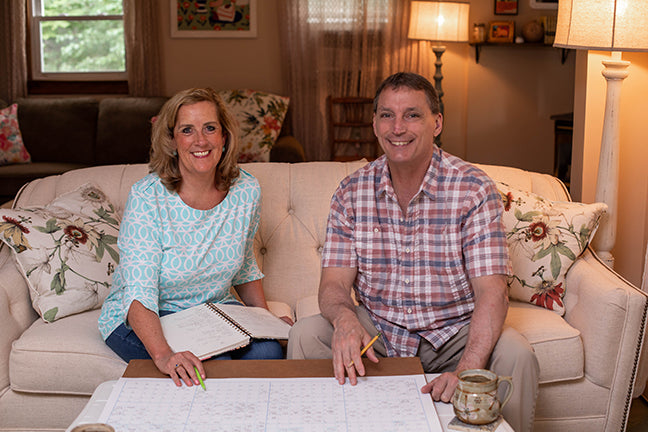 My only experience of owning and operating a business was when I was younger, a lot younger. It consisted of a shovel, myself, and the hope for a large snow storm. I also had my second business of a rake, me again, and the falling leaves of autumn. Truth be told, the rake was borrowed, and my only customer was my Nana, but I got to choose my hours. So, fast forward to my decision to join Ellen, and help run the business of El's Cards. I will say that a good thirty years in the workplace had gone by. Although I did not have all the headaches that entrepreneurial endeavors can create, I also did not have any of the rewards.
My first thought when the business was expanding and seeing Ellen having to handle all the work, was "how can I help?"  At the beginning, she was just asking questions. I had been managing operations at the last 3 companies that I worked for, so I had experience. Soon after that, we were working together on the side, weekends, and evenings.
I cannot take a full credit for coming to the rescue, as a matter of fact, I think it is Ellen who rescued me. She had said to me more than once that she was fearful of me having a heart attack, she could see the stress. I can do a really great job with organizing work, workflow, schedules, supplies, equipment, and customer service. The problems, as I seem to call them, were the people and all the moving parts. The owners, bosses, co-workers, and customers all have their own plan or agenda, so my work was in a constant state of flow. I know that was what my job was, but it felt like I was taking on all the owner's responsibility and not getting the owner's reward. 
I would have been perfectly fine with just coming to work for El's Cards, but the minute we agreed to do this thing together, Ellen started calling it our business. That is just the nature of Ellen and of our commitment to each other. So, when the day came to start full time, I was excited to bring all my skills to this new workplace. It is fun, and very satisfying to talk about where the company was when I started and where we are now. The workspace, going from a mere 25% of the lower level of our house to over 75%, with current plans to expand. Our equipment, starting with 2 printers, has grown to 8 printers, multiple paper cutters, and many other industrial grade tools to make our products the best we can.
What has taken place over the last few years was seeing how we had to adjust, manage our expectations, and lower our demands. I have come to understand life as change, even when I like life just as it is. I hope change is for the better, but you just don't know until it happens. I know it will be worse if all I do is complain, making myself miserable.
Ellen was quick to see that we needed some changes at El's Cards. She had great ideas and wonderful artwork designs to use on several new products. I started to research new equipment for the products, and I was looking forward to learning new techniques to bring Ellen's wonderful designs to life. We had a few discussions about this approach, and it was decided that the best way was to get help. We had to let go of total control and let some sub-contractors create the new products that we needed (easier said than done). I think we are considered nightmare customers to some of our sub-contractors.  We always have very high standards for the products we offer to our customers.
The good news-our customers were very surprised and pleased with our new product offerings- floral gift-wrapping paper, note pads, sticker sheets, 2-sided holiday gift wrapping paper, and the very popular tea towels. All the new products are in complete harmony with our greeting cards, note cards, art prints, whimsical maps and our very large selection of Wedding invitations and wedding day paper goods. We are so excited to be launching our new spring line (including all of these varied products) this coming Monday, April18th-just in time for Mother's Day.
So, it has been 7 years, how quickly time has gone by. We have made changes, some by choice, others by necessity. The thing that has not changed is the joy that I share with Ellen.  I really enjoy the work that I do and I know Ellen loves her creative side. We are constantly getting inquiries about our work and our products, and our customers are continually complimenting the products and referring others to El's Cards. We couldn't ask for anything more.
Thank you all so much for your love and support.  
Bob B.
Photos by Jenn Bakos Photography