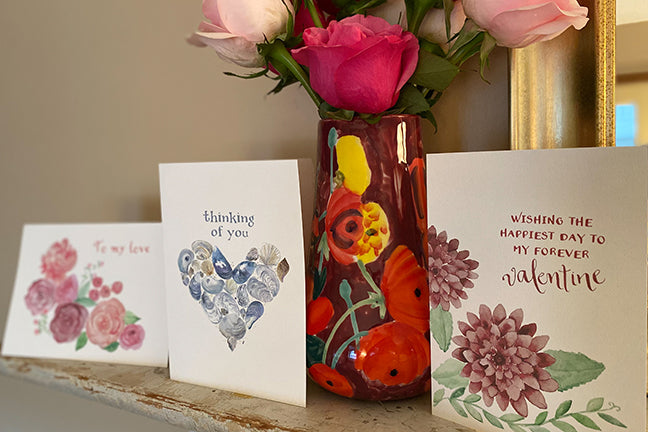 Every year, Valentine's Day sneaks up on me!  We always work so hard right through December for the holiday season and then all of a sudden, it's mid-January and I realize we need some new Valentine designs. 
For the longest time, I have enjoyed sending Valentine's Day cards to my friends and family just to let them know I'm thinking of them. Luckily, the designs for this holiday are always really fun-so I never have a hard time coming up with new ideas. Bob often offers some input with wordplay and I love thinking about a new way to incorporate artwork into his creative approach.  
I remember when I was a young girl, my Mum would get Valentine's Day cards for my aunts and uncles and grandparents, and my sister and I would sign them with our little kid handwriting.  Then when I was older, we would make Valentine cards in school for our parents.  The class Valentine party always included cupcakes and cookies with pink frosting and sprinkles, and we would decorate our Valentine bags where all the kids would put our cards. In 4th grade, I remember we had a Valentine card box decorating contest.  My Valentine card box was decorated with red and pink construction paper hearts and pictures of Shaun Cassidy ;)..Yes! I am dating myself here!
Can you tell I have a soft spot for this holiday?!  Back in the early days of El's Cards (before I met Bob and I didn't have a Valentine), I used to pack a bag full of hand painted (yes-each card was individually hand painted) Valentine cards, and sell them at the fire stations in Boston.  Typically I would go a day or two before Valentine's Day, and at this stage, the guys were always happy to see me!  I would hand write a calligraphy message to their wives, or sweethearts, and kids.
Valentine's Day is historically a very last minute holiday - with people running out at the last minute looking for a good card. In addition to the fire stations, I would also sell Valentine's cards in the lobby of my local gym on Valentine's Day week.  The members would walk in and see me sitting there with my little easel and card examples out in front of me.  They would say "OH what's coming up?!" and would often have me paint something special when they were doing their workout.
Valentine's Day can bring out the kid in all of us!  And sending messages of love to friends and special people means even more than usual to me these days. I hope you like the new designs AND of course we are offering a few special things too.  We were delighted by the response we got to our new tea towels when we rolled them out last fall, so we decided to add a few new designs just in time for Valentine's Day!
Behind the scenes, finding a good company to print these for us was quite a process. We ordered from several companies, before landing on one that had consistent high quality.  For Valentine's Day we are so pleased to introduce two new towels.  Both have a festive feel, but can be used year round-not just around Valentine's Day.  The first is a red lobster that I newly hand painted just a couple of weeks ago. The design was a big hit on Instagram when I posted the watercolor painting.  The lobster is printed on the red vintage stripe towel.  We think this design will appeal to both men and women.  Pair it with the Lobsters & Buoys notepad for a complete gift.  If you order these two items, I will wrap a ribbon around them for you.
The other design is my new favorite.  Yes, you all know I am a sucker for flowers.  The Chinoiserie vase is so popular and we have incorporated those paintings on many card styles and even a custom wedding invitation.  I put a different spin on this jar and painted it in shades of gold, then filled it with a beautiful pink bouquet with peonies, roses, tulips, and greenery.  Pair it with our Mixed Pink Flowers notepad for a little something extra. If you order these two items, I will wrap a ribbon around them for you also.
You all know how I love to do little specials. Here are our Valentine specials 2021:
3 package of Valentine gift tags with any purchase-these are super cute to tie on a little gift of a Valentine cookie or bag of candy for someone special.  Fun for a treat to pass on to a friend, a co-worker who needs a boost, or to the kids.
FREE card with each tea towel purchased- It can be one of our new tea towel designs OR any tea towel on the website.  As I mentioned, many of the tea towels pair well with a notepad for a lovely gift for the home. To receive your free card, just put the card in your shopping cart and the cost will be automatically deducted.
Bob had really liked a full color design that we had ordered from another company. And those arrived today! Two designs are available in that towel style-Garden Veggies and On the Beach.  
If you are local, we are still offering our front porch pickup option.  Just make that selection when checking out. Valentine's Day is February 14th-just a little less than 3 weeks away.  We already are receiving many great orders for Valentine cards and notes.  We thank you all sincerely for your support of our small business!
Have a wonderful day,
xoxo
El & Bob