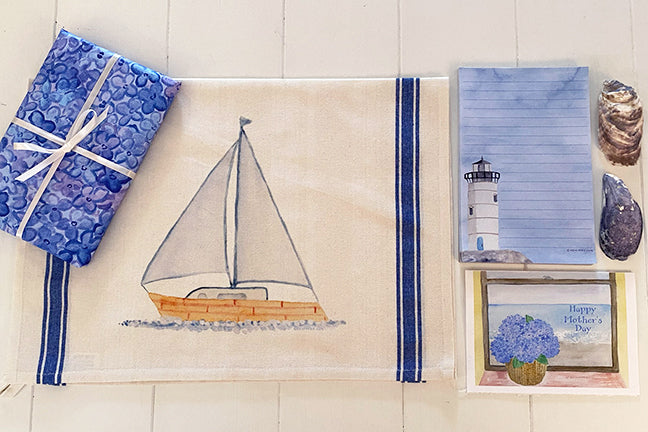 We have all heard "A picture is worth a thousand words".  Well, that's how I feel about introducing some special new beauties just in time for Mother's Day!  We've put together some items that work particularly well together for you in this blog post.
Hooray for color!!  I love painting in watercolor, and I especially like to layer my paints to create the deepest and most vibrant colors.  Here you see tea towels, notepads, and stickers make a great gift combination.  One choice would be to pair any of these flour sack white towels with the full color showstopper Abundant Blossoms Tea Towel (NEW!!).  When designing the new Mixed Flowers stickers, the new Blooming Flowers notepad, and the colorful Abundant Blossoms Tea Towel, I used flowers from all three of the flour sack floral towels.  So they all "go" together!!  Whether you like to have everything match or prefer mixing it up...there are many great new choices! 
Let's change direction for a minute here!  NEW Buoys Vintage Tea Towel and Lobster Hut Vintage Tea Towel look great together OR with our Lobsters & Buoys notepad.  The new Home Schoolers card was Bob's brainchild.  So many new cards! (And don't you love our NEW hydrangea gift wrap?  Have your Mother's Day or Birthday gifts wrapped and coming soon to order by the sheet!)
Who loves their veggies??!!  Full color Garden Veggies Tea Towel and Veggie Notepads are popular for your favorite cook. And don't forget the Veggie Notes.  Colorful veggie notepads come in two sizes.
Back to more flowers!!  Mixed Pink Flowers notepad, Peony and Mixed Flowers stickers, and our Gold Ginger Jar Bouquet Tea Towel are a colorful combination for someone who loves pink.
Our small note cards are a staple for so many of our clients!  This product has been around El's Cards since the very beginning.  They come personalized or not, as you choose.  Why not pair our Beachcombing Notes with the On the Beach Tea Towel or our NEW Beach Treasures notepad?
More flowers!  Our NEW Bright Bouquet Tea Towel with personalized notes from one of our two new floral notes collections...Assorted Blossoms and Mixed Blooms.  
The Peaceful Lighthouse notepad or Beachcombing notes look great with our NEW Portland Head Light Vintage Tea Towel, recently restocked Nubble Light Vintage Tea Towel, or our NEW Sailboat Vintage Tea Towel.  Don't forget the Beach Walk card to tie it all together!
One more floral...because I just can't help myself!  Hydrangeas are by far our bestselling flower design. Whether it's a wedding invitation, a Tea Towel as you see here, a mini notepad, stickers, or any of our other varied hydrangea products, this design is always a winner.
And now INTRODUCING another something new.  We are delighted to have just received our first order of our new hydrangea blossom gift wrap!  This pretty paper is making a big debut on our gift wrap service page.  If you haven't tried our gift wrap service yet, this is your perfect chance. 
Yes, Mother's Day is coming right up.  BUT feel free to wrap a birthday or any other occasion gift.  If you want us to wrap a few things together, that can be done! Just be sure to put those items in the wrapping info box on the gift wrap page.
We hope you enjoy all the fun new items we are so excited to launch today!  Thank you so much for being interested in our small business. We couldn't do it without you!
xoxo
El, Bob, Marty, and Sunny