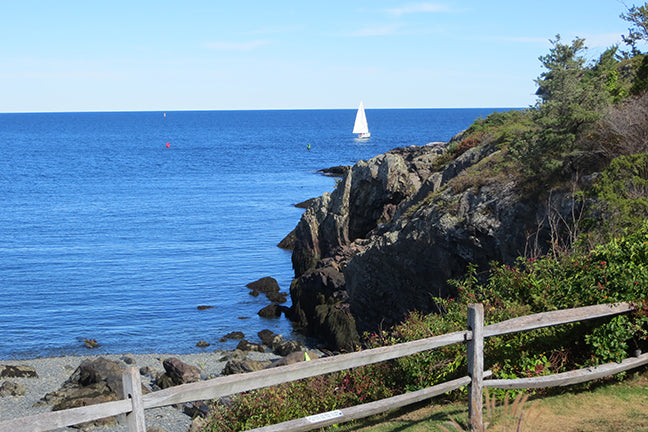 Days off have been few and far between lately!  BUT....after our amazing show this weekend...The Vintage Bazaar in Salisbury, MA....we needed it.  Often we will enjoy a "stare at the wall day" for our day off if we haven't had one in awhile.   But Monday was perfect fall weather, so we had a little adventure (camera in hand) and acted like tourists for a day!
First stop was Laudholm Farm in Wells, ME for a nice walk on a couple of their beautiful trails.  We have been wanting to go there and had a scenic and peaceful walk on a trail to the beach.  I got some good  ideas to help me finish up our calendar of The Sea this week!
Love the way the water sparkles.
Then, we truly went tourist and went to the Maine Diner for lunch! (nothing to do with these scenic photos....steak and eggs and fish cakes benedict)
Bob started driving us home on route 1A...the scenic route.  As we passed by Perkins Cove in Ogunquit, we neared the Ogunquit Museum of American Art.  We decided to stop and were not disappointed!  Another place I have wanted to go, but just haven't taken the time.  Looking at the paintings was so inspiring.  I love seeing how artists interpret different things.  Lovely grounds, scenery of the ocean...a couple more design ideas were located as we walked out on the rocks and got a great view of Perkins Cove!  There was a special exhibit of the works of Jamie Wyeth and we enjoyed seeing that too.
I have had an idea of including a whale weather vane on a rooftop...and look what we saw on one of the houses in Perkins Cove!  My zoom lens works great...good to know!
The day ended with a nice pot of homemade chicken, corn, and black bean soup...one of our fall and winter favorites.  A perfect day off and we plunged into work again today.  This weekend it's off to Camden, Maine for their fall craft show. I just had to share some of these great images I took on our badly needed day off. Soon to be transformed into calendar paintings in the next couple of days.  Stay tuned :) !