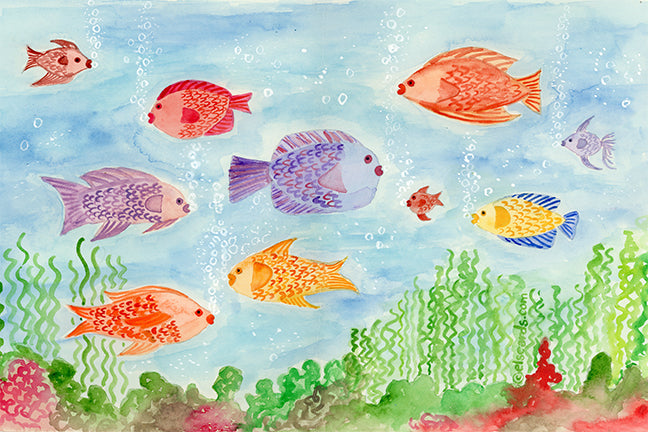 Happy New Year!!  2022 really wrapped up with a bang at El's Cards!  We had a wonderful year in so many ways!  Thank you for all of the great orders and wonderful notes you emailed (and snail mailed!!) through the whole year.  We are so grateful for all the support and are looking forward to some NEW items in the new year! 
A special thank you to all our new customers who discovered us through the NH Chronicle episode! If you haven't yet seen this fun segment about El's Cards, link here to watch it.  :) 
As always, there are more ideas in my head than ever.  Years ago, when starting El's Cards, I wondered if I would ever have a shortage of ideas. And the answer to that is a resounding "NO!"  Still....more ideas for artwork than I have time. Thank you for all your creative suggestions.  I'm looking forward to working on our project and artwork "to do" list for the year to come and painting so many new designs and inventing some new products too.  Stay tuned!
Meanwhile...we are long overdue here for a desktop wallpaper. The last one I did was for Valentine's Day 2022.  This design was an idea from Bob and I'm so happy he made the suggestion!
Last year for our anniversary in May, we went to Boston and did a fun museum tour which included the New England Aquarium.  Neither of us had been there in many years, and when we got to the tropical fish tank, we stayed there longer than any of the other exhibits.  We took so many pictures when we were there that a colorful fish design was a no brainer for our 2023 Sea Desk Calendar (we still have a few left).  And I'm currently obsessed with painting fish so that is also the subject matter of our Happy New Year desktop wallpaper. Something  colorful and cheerful to brighten your winter days :)
To download your desktop wallpaper, just follow these simple instructions:
-Select the size you need:
(desktop widescreen) Click here for 1920 x 1080
(tablet) Click here for 1024 x 768
(phone) Click here for smartphone
-When the image opens, right click the image
-Select "save as" and label it as you wish...New Year 2023 wallpaper or Fish wallpaper...in a place where you can find it.
-Go to your settings page in the computer
-Go to Personalization in the settings
-Browse images and grab it from where you have it saved.  It will set as home page wallpaper. If you have trouble, ask your favorite millennial  or "gen-z"er for help!
Enjoy your NEW device wallpaper!  Download it to all of your devices and feel free to share this post with anyone you think might like it. 
We have a number of other device wallpapers available too. See this page to see all the others available for free downloading.
Wishing you a Happy 2023!  Looking forward to some great surprises at El's Cards in the year to come.  We are grateful for your love and support!
xoxo
El & Bob