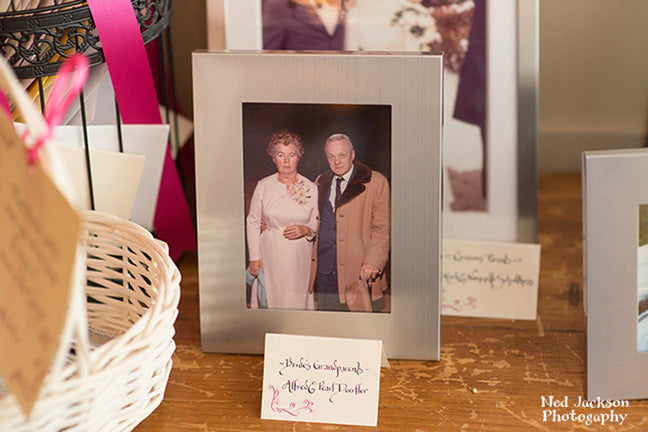 The day you get married is a special one.  We are surrounded by our family and friends and are enjoying one of life's happiest occasions.  It's always significant to be able to honor those who can't be there because they are no longer with us.
Include names in the Ceremony Program-This is the most popular approach that I have experienced.  Including a "In Loving Memory" section on the program is always a tasteful and classic way to do this.  When couples have asked me to do this in the past, they may list who the individuals were-such as Susan's grandparents with the names.  You may want to just keep it simple and have a list of names.
Years ago, a bride had me put a small painting of a sunflower next to a good friend's name on the back of her programs.  Sunflowers were the girl's favorite flower...so it was a special tribute to Eileen.
Photo credit-top photo- Denis Dupuis
Light a candle-Some couples like to do this as part of the ceremony. One of my recent brides had lost her mom last year.  She thoughtfully had me create this special sign that she put next to her parent's wedding photo in the reception hall.
Display framed photographs of the family and friends to be remembered.  You may want to label them so people will know the names of these special people.
Photo by Ned Jackson
Honor them by using a special recipe-Last winter, I created some signage for a wedding including dessert signs.  One of the desserts was made in honor of the bride's grandmother...with her own recipe. 
Included on the invitation-You may have a deceased parent, but you still would like to include them in the invitation.  Recently, I had a couple in this very situation.  There are a couple of ways to do this.  the important thing is that it not sound as though it is being sent by her or him. You could try something one of these:
Together with their families,
Abigail Wilson,
daughter of David Wilson and the late Angela Wilson,
and
Richard McDonnell,
son of Mr. and Mrs.Brendan McDonnell,
request the honour of your presence at their marriage,
etc.
or the more traditional....
The honour of your presence is requested at the marriage of
Abigail Wilson,
daughter of David Wilson and the late Angela Wilson,
to
Richard McDonnell,
son of Mr. and Mrs.Brendan McDonnell,
etc.
Other ways to honor your beloved family and friends....have your musician play a special song, use some of their favorite flowers in your bouquet or in some of the arrangements at the church.  In lieu of favors, you may want to make a donation to their favorite cause in their name. No matter how you choose to include these special people, the thoughtful gesture will certainly be noticed and appreciated by your guests.
Save
Save
Save
Save
Save
Save
Save
Save
Save
Save