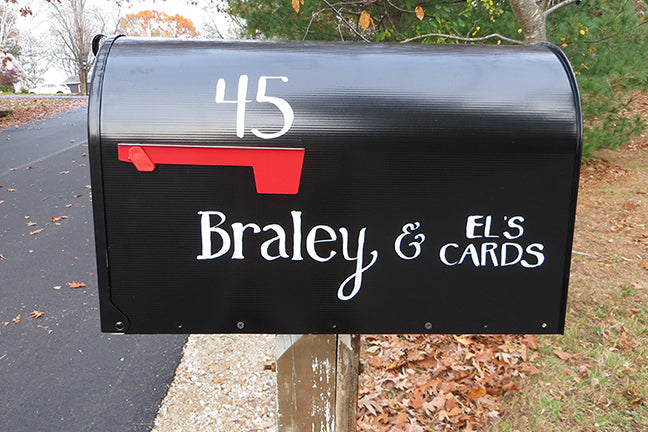 We are so excited about our holiday season 2017!  So much prep has been done...the shows have begun, and we are totally ready to handle all the great internet orders that are already coming in every day!
Bob got an oversized mailbox for shipping ease!  He does at least 2 postal runs a day in normal times, but this time of year, sometimes it helps to be able to put some early morning packages out for the postal pickup.  He asked me to hand letter the box and this time I was able to add El's Cards.  This will come in handy especially for our Letters from Santa....which incidentally will start going out this week!  Those are all shipped in track-able postal envelopes, so we don't have any losses in the mail.
We just put out our Santa Letter welcome mat!  My good friend, Lisa, gave this to me as a gift a few years ago, and it is a seasonal favorite! Letters from Santa are always a special tradition of the Christmas season.
Bob is ready to go with the massive bag of packing peanuts you see on the right, rolls of bubble wrap, packing boxes (far left)...and a LOT of inventory! Maps, holiday cards, calendars, Christmas prints, gift tags....you name it!  Christmas cards are in the center of the table being put in alphabetical order for the boxes to bring to the shows.  Bob is always fine tuning the systems and getting things more organized for ease of setup and breakdown.
We just had 2 incredible shows over this weekend!  Saturday, we saw a lot of familiar faces and made some new friends in Stratham, NH.  It was especially fun to see my cousin, Barb and her husband, Paul!  Then today, it was our very favorite show of every year!  Greenland, NH...our home town.  That show never disappoints...so well organized, beautiful artwork and crafts, and we always see some friends there too.  I even did a little shopping myself at the end of the day.
It would be great to see you at one of our shows this season.   And if you can't make it, don't forget the free shipping on all website purchases over $50 for the month of November!