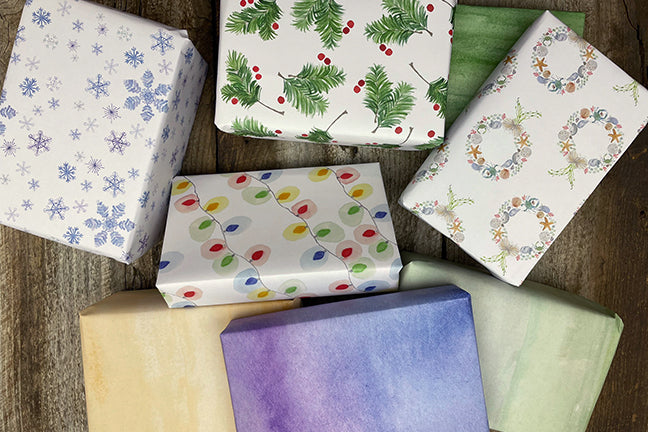 It's a big day here at El's Cards. Later in the day than I had hoped, but you know...everything takes longer than anticipated.  Every year we look forward to the holiday season and we kick it off with our launch at the beginning of November!  Last year we added a few new items that were incredibly popular, and this year we have added some new designs and a super fun new item.
Let's get right into it! Last year when we introduced our gift wrap service with our own special gift wrap, it was met with a wonderful response.  We had many requests for rolls of gift wrap and this year we decided to go for it!  Our first addition was in the spring-hydrangea blossom wrap.  This item was met with such a great response that we sleuthed around and finally landed on a printing company that offered exactly what we wanted-double sided wrap.  So every sheet offers two possibilities.  One side is the holiday design and the second side is a subtle wash in a coordinating color.  Two designs in one sheet!  LOVE!  Add coordinating tags if you want the whole package :)
Snowflake wrap with blue and purple wash on side 2
Berries and Boughs wrap with deep green wash on side 2
Holiday Lights wrap with Gold wash on side 2
Sea Wreath wrap with my favorite sea glass wash on side 2!
We also have met with great success with our tea towels over the past year since we first introduced them last October.  We have 9 new designs for the holidays and winter, then we have many other great designs that will be perfect for gifts to use year round.
Marty always wants to be part of the action! Here he models the new Christmas Cookies towel and various wrapped packages ;) 
Buoys vintage style tea towel-photo by Jenn Bakos 
Last spring we introduced some beautiful full color designs and we have added one more for the season...
A perfect intro to this new limited edition item!  I have always loved the calendar tea towel and last year it was our very best seller of all the towels we ordered for the holiday season. Well...this year I am especially excited to introduce a full color version of the 2022 calendar! That's 18" x 30" of beautiful color and a completely new full color painting.  The watercolor artwork was done first on one large sheet of Arches paper (no digital painting at El's Cards-ever!), then I added the calendar months on the image for print.  
Perfect to use as part of your kitchen decor or hang it in any room in the house as a daily reminder. See an example hanging on the door of my office. So EXCITED about this one!
...And hanging in the traditional way-on my dear friend Rachel's stove front.
Of course there are new cards too!  My favorite is the Beautiful Tree.  Lots of fun details and color!  I spent a lot of time on this one.  There are a couple more card ideas brewing in my head (as Bob likes to call it-"thought soup")...so I may still add a couple more.  Stay tuned over the next weeks.  We have a few more surprises on the way.
We do want to mention the elephant in the room about shipping this season. We made the decision to switch to priority shipping for the USPS through the end of 2021. Because the postal system has gone through some changes and everyone had a rough time with that last year, we believe that is the best option for shipping security this season. We are also looking into making UPS one of our regular shipping methods so that may be coming soon.
Last year we instituted our "front porch pickup" and it was a great addition to offer to our customers.  We have continued that service ever since then, and we have many people who select this option when checking out.  To avoid shipping delays, we are encouraging our customers who are close enough to just swing by and pick up your orders vs. having them shipped.  And don't be surprised when you receive a little thank you treat (maybe a fabric bag, maybe another fun El's Cards product....) when you opt to pick up your order.  
And maybe you will get a glimpse of big kittens through the front door!  
Enjoy all the new items!  We look forward to hearing from you or seeing you at a show!
xoxo
El, Bob, Marty, & Sunny