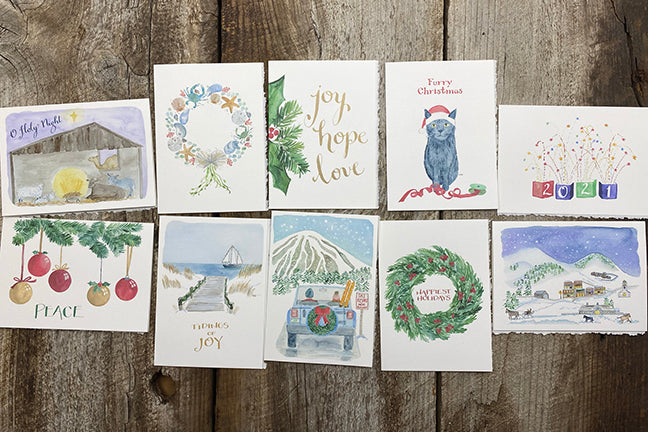 I got dressed up on Monday. Not in an evening gown or anything like that, but dressed up for a pandemic year.  Actual pants (vs. sweats), a nice sweater, and a real top (vs. sweatshirt), jewelry, full makeup and shoes (vs. slippers).  I've been working on all the items for our Christmas launch and needed a boost.  When I was in high school, I remember always dressing up on a day when I had a test because it made me feel smarter.  Can anyone relate?  Well, now when I need to stay really focused I try the same approach and it works for me.  Don't get me wrong, my friends think it's hilarious that I put on makeup and am working at home alone with Bob every day. But it helps me stay positive and feel good, so here we are. ;)
It is with great pleasure that we officially introduce the start of our holiday items 2020!  This year, we have added a few new services and more new card designs than ever before!
-New designs for Christmas/Holiday cards-  The snow last Friday was great for inspiration.  The card process is different every year...but I always light some Christmas scented candles, turn on my Christmas music, and paint away. It's much more fun when there is actually snow-and that is rare!  We hope you find one that you like. There are now 90 holiday card designs on the El's Cards website!
-Gift wrapping service-so many people are shopping on line for gifts this year, I designed and had some gift wrap printed.  We will be offering a gift wrap service using two different paper choices-Gold Feather or Christmas wrap.  You just let us know which item (or items) from your purchase you would like to have wrapped, and the message for the gift tag.  We then do the rest!  We can send your gift directly to the recipient too if you put their info in the shipping when you check out.
-Envelope addressing service-This is something we offer to our wedding couples every year!  There are several large businesses who order their holiday cards from us and always have us digitally address the envelopes.  This year, we are so pleased to offer this service on a smaller scale to all our customers. Our only parameter is that you need to purchase a minimum of 3 packages of 8 cards from us for either service to be available.  
We are giving you the choice of full envelope addressing or your return address on the flap of the envelope only.  Both options include some artwork on the envelope.  We have artwork choices listed in the full addressing option. For the return address only envelopes, we will select one of 5 designs that we believe goes well with your card choice. 
-Small notepads-Our notepad launch in September was a huge success!  So much so that we decided to add a few small notepads to our notepad line.  And you know how I love specials, so for our holiday launch we are doing something extra special!  Every online purchase made of $50 and over between today-Thursday, November 5th and Sunday, November 8th will receive a complimentary Christmas notepad while they last!  Who doesn't love something free?!  Limit of one pad per customer, please.  Of course, they are also available for purchase on our notepads page.
-Front porch pickup-We started offering "front porch (vs. curbside) pickup" at El's Cards and it has been a big hit!  So many of our great local customers have been able to pick up their orders on our enclosed front porch and not have to wait for shipping.   Depending upon your order, we can often get them ready the  day your order and put them out right away.  And please don't hesitate to text me at 617-696-9196 when you are picking up! I love to pop on a mask and give a little hello.....we are almost always here :) 
So many new gifts and cards are available this year.  Stay tuned for new notes, gift tags, and stickers later this month. We really want to say thank you to all our great customers for your support!   We were feeling very stressed with the postponement of weddings and cancellation of craft shows too.  We thank you sincerely for all the great orders of cards and gifts. As we launch into our holiday season, Bob is right on top of the orders as always.  We are getting many early Christmas card and gift orders and we appreciate every one of them.  We are grateful to you all.
xoxo
El & Bob