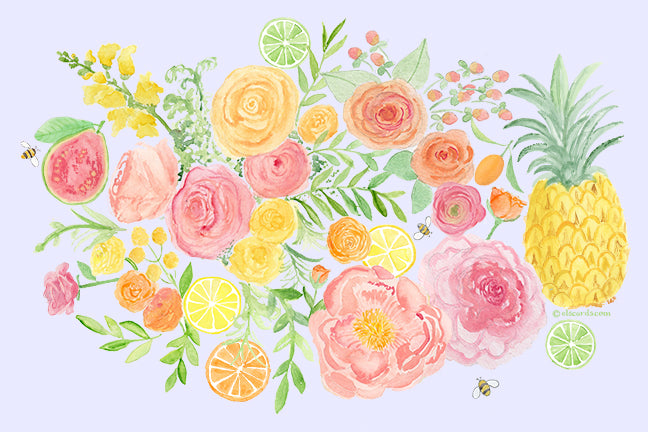 It's that time of year again!  I love Valentine's Day and all the fun flowers and colors! This year for your desktop wallpaper treat, I mixed up the color palette a little bit.  My inspiration was a crest I created just this week for one of our June wedding couples....using periwinkle and corals. 
Of course, I know it's only February and Punxsutawney Phil saw his shadow, but this design will take you right through the spring.  Feeling a citrus and fruit inspiration too so you have details of fruit slices, guava, a kumquat and a pineapple too-just because I like the colors!  Bees do make the world go 'round, so you will also find a few bees buzzing here and there as well.
To download your desktop wallpaper, just follow these simple instructions:
-Select the size you need:
(desktop widescreen) Click here for 1920 x 1080
(tablet) Click here for 1024 x 768
(phone) Click here for smartphone
-When the image opens, right click the image
-Select "save as" and label it as you wish...Valentine's Day 2022 wallpaper...in a place where you can find it.
-Go to your settings page in the computer
-Go to Personalization in the settings
-Browse images and grab it from where you have it saved.  It will set as home page wallpaper. If you have trouble, ask your favorite millennial  or "gen-z"er for help!
Enjoy your NEW device wallpaper!  Download it to all of your devices and feel free to share this post with anyone you think might like it. We all need lots of beauty in our lives.
Thanks so much to everyone who placed orders for Valentine's Day! We have been very busy over here.  I'm off to now work on a special project.  Stay tuned for more on that in the coming weeks.
Have a wonderful Valentine's Day weekend and enjoy the Superbowl too :)  We plan on a Sunday meal of tacos and Valentine cake! Good game food with a sweet treat for dessert!  (I'm all about the food!)
Love to you all,
El, Bob, Marty, and Sunny
xoxo