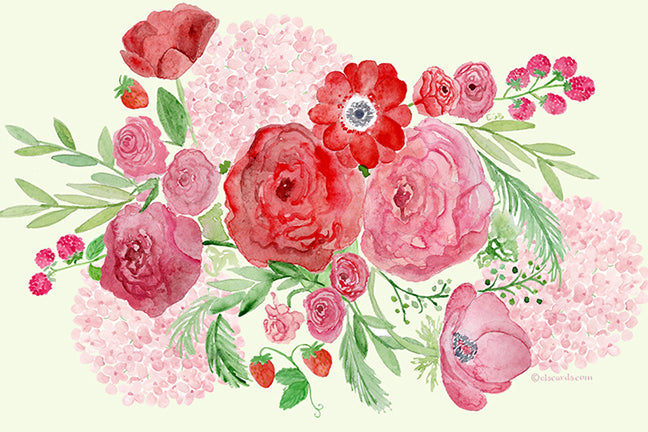 Happy Valentine's Day, Friends!!  The 20 year anniversary celebration continues and your surprise comes early this month!  We hope you enjoy this very special downloadable wallpaper for you to use on your computer or phone as a Valentine treat from your friends at El's Cards!
A fun bouquet with pink and red favorite fruits and flowers on a subtle green background will brighten up your desktop or laptop. 
Follow the steps below to put up your beautiful watercolor wallpaper. 
-Select the size you need:
Click here for 1920 x 1080 (widescreen)
Click here for 1024 x 768 (standard)
Click here for phone
-When the image opens, right click the image
-Select "save as" and label it as you wish...fun floral wallpaper...in a place where you can find it.
-Go to your settings page in the computer
-Go to Personalization in the settings
-Browse images and grab it from where you have it saved.  It will set as home page wallpaper. If you have trouble, ask your favorite millennial for help!
Voila! You have a beautiful new wallpaper.
Happy Valentine's Day to All!!
xoxox
El, Bob, and Spike