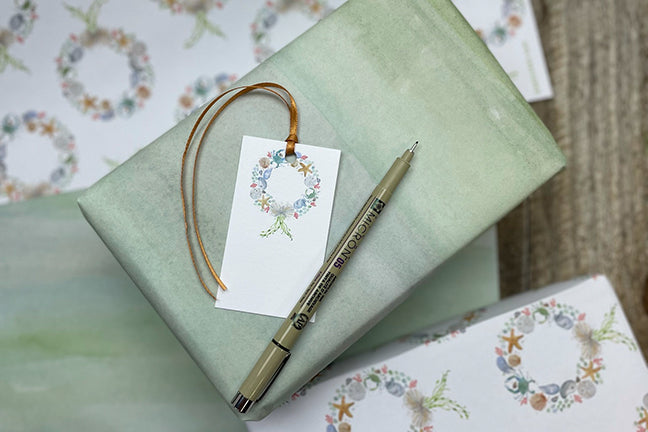 It's been another great year for creative ideas!  Last year, we introduced some gift wrap that I had designed as part of our gift wrap service. That paper went over so well that earlier this year we decided to do some gift wrap using our hydrangea design. And that was so popular, we decided that doing a line of holiday wrap was a definite must!
Our gift wrap service is going strong if you would rather Bob do the wrapping for you.  Our Christmas wrap, gold feather wrap, and hydrangea blossom wraps are all available for this great holiday time saving service.  But we have some great choices for you to do your own wrapping this season too!
We have the wrap printed by two different third party vendors and are so happy with the results. Our clients know how particular we are about quality, so we did some test runs before we settled on the companies we are currently using.
Bob has it all stored carefully.  He rolls it for each order....
Then it's packaged in a cello sleeve for protection when shipping and a tidy presentation.
Last year when we launched our tea towels, I did a post about all the different uses for a tea towel!  This post will hopefully help you think outside the box-pun intended ;) when you see our new gift wrap.
-Cover a book- I hope I'm not dating myself here, but I probably am!  When I was in high school, we were required to cover our books. At the time, we used paper bags.  From what I hear, textbooks are much less common than tablets now!  But I have a couple of cookbooks that I use all the time and the covers are very beat up! So, I used gift wrap to cover them....and now they are part of the kitchen decor.
-Decorative shelf paper-speaking of kitchen decor, gift wrap makes for a pop of color in the cabinets and on shelves. You can also use it to line drawers. Pretty and practical!  To make the drawer liners all you need to do is measure the interior of your drawer.
-Put it in your desk blotter-Gift wrap gives your desktop a splash of color.
-Frame gift wrap as artwork-this is one of my favorite uses!  I've been doing this for years (not with our wrap....but others that I have found pretty!). I love the abstract wash side of our new holiday wraps for this usage.  Purple and green are a favorite color combination of mine!  
-Make it "wallpaper"-this is a great use in a small space.  We have a dark wood bookcase in our living room and adding gift wrap to the back in between the shelves brightened it up immediately for the winter months (I used the snowflake wrap).
-Make bookmarks-This idea is perfect with 2 sided wrap. My friend Kristen suggested this one! She loves double sided wrap and told me that she loves to do this very thing.  Perfect! Even though I love my kindle, I use bookmarks in my meditation books and for favorite recipes in my cookbooks also.  Have them laminated so they last longer. Cute to stick in a card or give with a book or a book store gift card.
-Use it in scrapbooking-Add some colorful personality to the page when preserving your family memories.
-Line an envelope-One of our most popular wedding invitation special touches is the envelope liner.  It makes a beautiful impact when opening the envelope.  Why not do some of your own liners for fancy correspondence? Or how fun to line your Christmas card envelopes!  Step by step "how-to" below.
First, trace around your envelope on the back of the gift wrap.
Cut all of the sides a little bit shorter. The top should be cut along the inside of the glue line.
Insert the liner into the envelope
Fold over the flap of the envelope with the liner inside to make a crease where it folds over.
Finally, use double stick tape on the top of the liner to adhere it to the envelope.
-And finally the obvious choice! Wrap a gift-After all, it is gift wrap!  It's always wonderful to receive a nice gift, and even more special when it's in a pretty package. 
Marty is a helpful observer!
This is the time of the holiday season when people start wrapping gifts! So....we are doing a gift wrap special for a limited time only.  Use coupon code GIFTWRAP for 25% off the following items:
Berries and Boughs Gift Wrap and Tags
Snowflakes Gift Wrap and Tags
Holiday Lights Gift Wrap and Tags
Sea Wreath Gift Wrap and Tags
Hydrangea Blossom Gift Wrap and Tags
You can see them all on this page.
We have had great luck (knock on wood) this year with shipping.  Everything has been arriving within a week of Bob sending things out-and his turnaround times have been quick too. That said, we are happy to continue to ship right up to December 20th.  We will tell you that if you are nervous about receiving your order on time for Christmas, you place it no later than Wednesday, December 15th. Please keep in mind though that once it leaves our hands, it's out of our control.  So you can't go wrong ordering early!
Our front porch pickup option continues to be popular! And remember...when you choose this option, you will receive a pretty hand made fabric bag which is perfect to reuse as a gift bag.  My Mum and I have been hard at work creating these cute bags together.  As a dear friend commented about the front porch pickup option....the best part is having your order right in your hand-and not having to worry about the shipping.
Have a wonderful week and we look forward to hearing from you!
xoxo
El, Bob, Marty, and Sundance