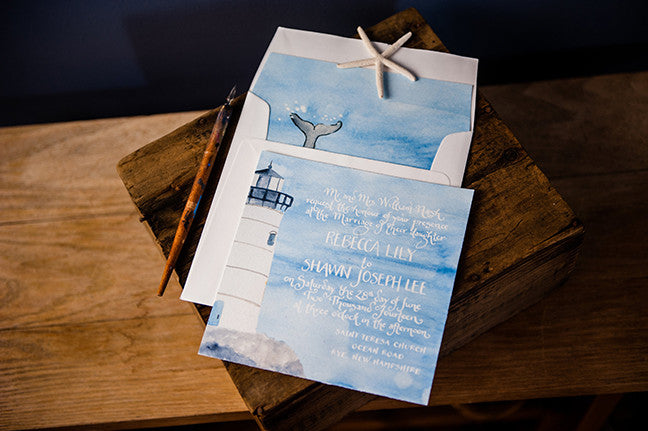 It's time to get started on your wedding stationery.  This decision starts with your save the date and invitations....and carries right through your wedding day to the thank you notes.There are so many choices out there.  Do you order on line or go somewhere local?  What color should they be?  Do you need a theme? Should they be formal or fun?  So many questions….
When I meet with new clients, first, we chat a bit about the wedding in general so I get a feel for what kind of an event it will be.  We then determine the colors and the couple's style.  There are so many things to consider to create an invitation that is harmonious with your vision of what your wedding day will be.
The time of year of your wedding often impacts your color choice.  And thinking about the season may help you narrow what you select.  For an autumn wedding, my thoughts run to gold, plum, maroon…or reds, oranges and yellows.  Spring and summer lend themselves more to softer shades-pinks, peaches, mint green.  For winter, I think of rich jewel tones like emerald green, ruby red, sapphire blue.
Another possible direction for your invitations is to have a wedding theme. This is something to talk about together as a couple.  The idea of carrying a theme through the wedding using your stationery items, really makes the event cohesive. 
Often couples will choose a theme that relates to things they love to do together, like boating, going to the beach, hiking, or travel.  I've worked with clients who had a vineyard theme, skiing, nature-the ideas are as different as every couple.  Worth mentioning….If you are having your wedding at a mountain top resort, you probably won't want to have a beach theme featuring shells and lobsters.  So keep your locale in mind too!
One no fail approach at stationery is to choose flowers, greenery or trees that are going to be used for your wedding décor or are in season at the time of your wedding.  These are among some of our most popular invitation styles.  Whether it's a brilliant autumn tree or a colorful French blue hydrangea, as long as your choice is seasonally appropriate, you can't go wrong.
There is so much to think about when choosing your wedding stationery! Above all, enjoy the process. This part of the planning will really set the tone for your big day.  We hope to work with you on this fun part of wedding planning!
Email El to set up a meeting or schedule a call to discuss your wedding invitations.  You can find our pricing right on our invitations pages to get a general idea of cost.
Beautiful photos by Melissa Mullen.