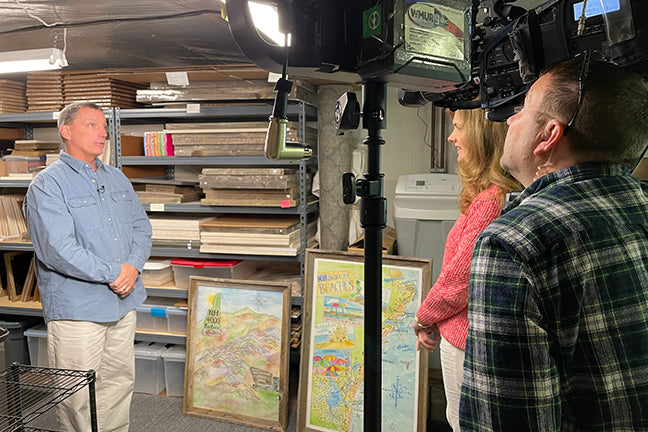 Hi friends!!
We hope everyone had a great Thanksgiving yesterday!  It's been a wonderful week here at El's Cards.  On Monday, I got a phone call in the morning from Karen Meyers from WMUR! She had an unexpected opening in her schedule on Wednesday (yes....2 days later!) and asked if we would be available to be filmed for New Hampshire Chronicle!  
So my immediate answer was, "We can definitely make that happen!"....and as I heard the words coming out, I thought, Hm...maybe I better let Bob know what is going on here!  I put the phone on speaker and brought the phone into the kitchen where Bob was pouring some coffee. We had just had a big craft show and then a wedding show over the weekend- so were starting our workday a little later than usual.
Karen explained how it all worked and the timing for Wednesday....and Bob and I then set to figuring out how Monday and Tuesday would go!  It was definitely an offer we couldn't refuse.
What a great experience! Karen made us both feel so comfortable in the interviews and Jason was a pro at working around my little studio space with his lighting system.  We had a lot of laughs and it was truly an unforgettable day!  And anyone who knows me, knows that yes...I did have an outfit change :)  I don't paint in my fancy interview clothes so I went casual for that part of the filming. Jason got shots of me painting and Bob printing in his workshop.
I almost forgot to get some behind the scenes shots-my friend Meg who has done so many great videos for us reminded me to do that! So you can see a few in this post.  We will let you know when the show airs!  We are so thankful for your positive feedback and support!  This feels like the Big Time for El's Cards.
AND of course because it's Black Friday weekend, we are doing free gifts with purchase today-Monday. No coupon needed-gifts will be included with your order.
Spend $30+ get a free Christmas sticker sheet...
$65+ get a free Holiday notepad too...
$100+ get a free 11x14 Poster Calendar too!
Free shipping over $150.
If you are "local"-remember our Front Porch Pickup!  That is so popular, we continue to offer that great service.
If ordering and are wondering about ship times, Bob just told me right now you can expect 2-3 says production, then shipping time.  Please order on the early side if possible. We have not yet decided on our last ship day for 2022, but will be announcing that in the next week or so.
And a friendly little reminder....Our deadline for "Your Beloved Bookshelf" to ship in time to arrive by December 24th is December 1st! So you have one week to get your orders in for gifting.  We have received so many orders already-we are thrilled with the response.
Have a wonderful weekend everyone!  We sincerely thank you for all the great orders.
xoxo
El & Bob