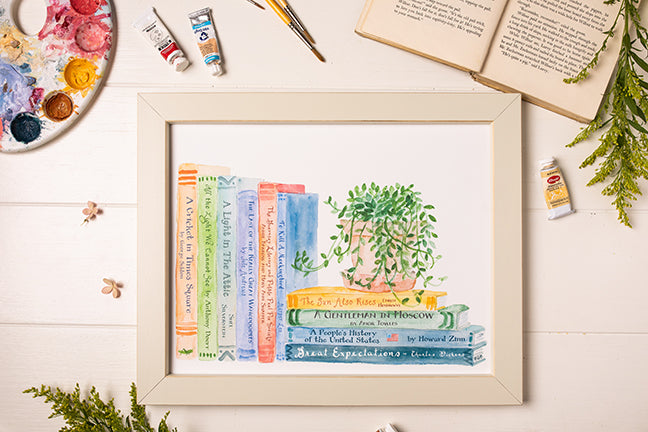 See El's Cards on NH Chronicle! Click here :)
Hello friends!  Happy Holidays to all! On Friday night, we enjoyed watching a beautiful segment about El's Cards on NH Chronicle created by the insightful journalist Karen Meyers.  You may have seen my post shortly after Karen and Jason (the talented cameraman), came to film us the day before Thanksgiving.
If you didn't get to see the show (we know we have a lot of friends who are not in New Hampshire!!) here is a link to watch it now.  Bob and I are so happy with the outcome.  It is a great compliment to be featured on this iconic news program.
The response after the show was incredible!  We had a busy weekend filling orders and we are happy to report that everything made it out yesterday-shipped on time for Christmas!  (A little reminder...today, December 20th, is the LAST day to order for front porch pickup in time for Christmas!)
Your Beloved Bookshelf photo by Jenn Bakos
We want to thank you for all the wonderful card and gift orders this season! "Your Beloved Bookshelf" has had a great debut and we are getting an overwhelming response on this most special of gifts!  As a person who loves to read, this project was something I have wanted to do for a long time and the positive response has been overwhelming.
Map photo by Jenn Bakos
And something special for the hikers!  Karen did a great job highlighting our newest map!  It was definitely the big seller over the weekend-the map of the NH 4,000 footers.  Thank you to all our new customers who will be giving this map to someone special this holiday season!
We truly appreciate all of the wonderful support and great notes you have been sending since the show aired.  It is such a gift to be able to do something so enjoyable and meet so many great people along the way.  
We will be out of the studio from December 22nd-27th for a little Christmas break, so any orders placed in that time period will be filled when we return starting on December 28th.  I'm getting together a little holiday surprise for our email recipients so watch your inbox for that ;)  
With love and gratitude,
El & Bob