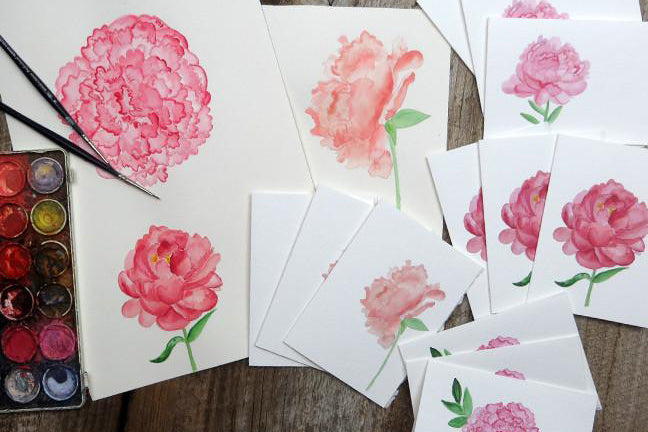 We are so excited to introduce some new designs for summer 2017!  We have 12 new card designs and 4 new boxes of note cards!  All of our note boxes are mixed...so you know what that means!  16 new designs!
We are also offering free personalization on our notes for you!  Here's how it's done.  Go to the dropdown of the selected note card style you wish to purchase.  Select "Artwork Only" so you are not charged for the personalization. Then enter your name (or other personalization under 30 characters) in the box when checking out.
And I listened when everyone told me that peonies are your favorite flower!  So I am so pleased to introduce our new Summer Peonies note cards!  Newly painted designs to celebrate such a beautiful flower.  These notes can be personalized...so they make a great gift!  Or just treat yourself.
We have 2 new sets of notes featuring some of the most popular cooking herbs...fresh herbs and garden herbs.   These notes are the perfect small size to tell someone that you are thinking of them.  The new herb notes are labeled in calligraphy so they are not available for personalization.
Our last new set of notes is our Rose Assortment.  This one features roses in different colors and styles.  You can add a name to these cards to make them extra special.
4th of July Special--From Saturday, July 1st-Friday, July 7th, we are offering free shipping!  Please enter the coupon code FREEDOM when checking out to receive this special!
Save
Save
Save
Save