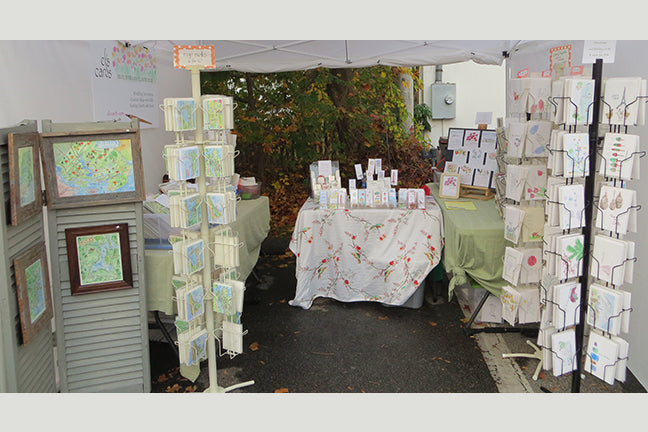 Recently I was going through some old photos and came across a photo from one of our craft shows in the first year we were doing them!  Whoa!  Thought you might enjoy photos of our  show setup progression and improvements!
I just about died laughing when I saw this first one....circa 2009...hand written signs, baskets.....yikes!  Need I go on?  You can see a little glimpse of our first website on the screen of my laptop in the background. Needless to say....there have been many big improvements at El's Cards over the past few years!
When we started really getting into the maps, we added a shutter for display of the maps in frames.  That was great for a 4-6 map display. I love the shutter style, but it was quite heavy. 
Our next progression for map display was when Bob found some metal frames at the "transfer station", and put them together with hinges.  This was a great solution for a few years. To note, this birds tablecloth was and is one of my favorites! We still use it for the summer and early autumn shows.
For 7 years doing shows, we had a great Ford Ranger pickup.  Bob was in search of the perfect cap...so he ended up purchasing 3 different ones...each better than the last.  Then last year, he weighed the product we were bringing to shows and realized we had maxed out the weight that would fit in the Ranger.  We decided to go big.....and got the van!
Bob is always the van driver!  I suppose I should learn, but it's a little large for me.  Although I have to say...it's super comfortable and I love being a passenger.
Now we have plenty of space for everything we want to bring. When you have more space...what do you do?  Add more stuff of course!!  And we have....art walls, a rug, uniform wooden crates for maps and prints, curtains, 2 huge card racks and more!  Bob pulled out the seats (so sorry, no, we can't bring you to the airport), and built shelving and storage compartments. Now he keeps all our racks, tent, rugs, tables, etc. in there all the time, and all he removes is the product.  Each show he loads the boxes of product in the van and off we go.  I love the way he packs the truck. It's like a jigsaw puzzle. He maximizes where to put things and make the most of the space we have.  If it were me packing the van, I would end up with 6 big things left at the side of the truck...wondering where I can squeeze them in!  Bob always knows.
It's a long way from the little baskets and hand written signs!  The proof is in the photos...a HUGE step up!  We hope to see you in person at one of our shows this holiday season!
Save
Save
Save
Save
Save
Save
Save